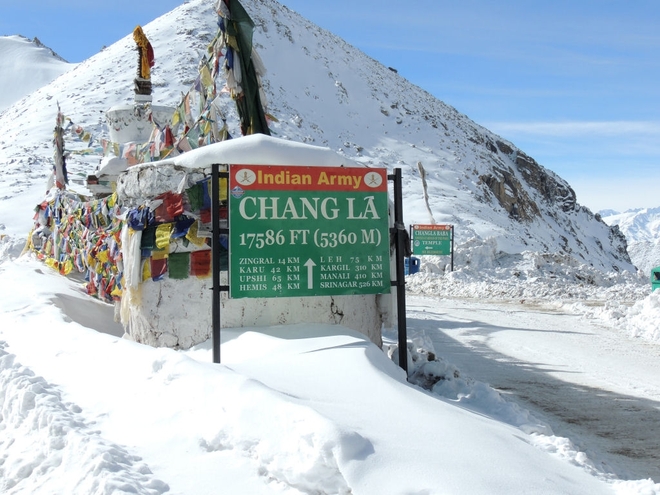 Vijay Mohan
Tribune News Service
Chandigarh, October 2
The world's highest research station, established by the Defence Research and Development Organisation (DRDO) at an altitude of 17,500 ft at Chang La in Ladakh, has become functional. Along with the station, DRDO is also introducing a new technology for solar-heated shelters for use at extreme altitudes.
Situated about 80 km east of Leh, the research station will function under the Leh-based Defence Institute of High altitude Research (DIHAR). It will be used to develop and validate cold weather technologies. DRDO Director-General Dr S Christopher will inaugurate the station this week. The earlier record for being the highest research station was held by Pyramid Laboratory, situated at 16,500 ft at the base of the Everest in Nepal.
The Chang La station, where temperatures can fall as low as minus 40°C, would be used for extreme altitude bio-medical, material and agro-animal researches, green house technology and conservation of endangered species of plants. The station will be able to accommodate up to 10 scientists along with a support staff of 10 and have fully equipped state-of-the-art laboratories. Solar power would be the primary source of energy with back-up by diesel generators.
DRDO has also developed a unique green energy based micro-climate-controlled shelter for use in high-altitude areas that traps and utilises solar energy to maintain the temperature inside. DRDO scientists said while power generated from solar energy could be stored in batteries, it is very difficult to store heat energy derived from the sun for later use. The new shelter, called Dhruv uses "phase-change" materials for night applications, heat trapping roof design, freeze-resistant underground water storage tanks and solar energy based thermal budgeting.
Top News
Says the CM is protected at both these places by the Punjab ...
The training aircraft, which took off from the air force sta...
Police say report on wrestlers' allegations to be submitted ...
'Mahapanchayat' being attended by khap leaders from Punjab, ...
Kamikkar Singh Dhaddi is lodged in jail in an abetment to su...