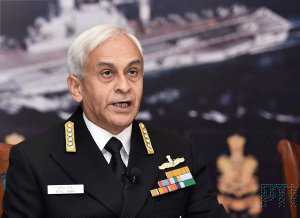 New Delhi, December 2
Refuting Pakistan's claims that it detected and chased out an Indian submarine from its waters, Indian Navy chief Admiral Sunil Lanba said operational necessity decided India's submarine deployment.
"Repelling submarine of any nation is not easy task. Claim made by Pakistan Navy is totally bogus," the Chief of Naval Staff told media here during an annual briefing on Navy Day. "We deploy our submarines where as per the operational necessity and where we need. We will continue to deploy our submarines," Lanba said.
The Pakistan Navy on November 18 claimed that it detected and chased away an Indian submarine that India was trying to station in its waters.
Speaking on the presence of the Chinese Navy's ships and submarines at Gwadar port of Balochistan in Pakistan, the Navy Chief said that India was keeping an eye on them.
(Follow The Tribune on Facebook; and Twitter @thetribunechd)
"We have capability and assets to take on any force which is deployed, and if and when this happens, we have plans in place to tackle it," he said.
Saying that the Chinese Navy has not touched the Indian waters, Adm Lanba added that India launches surveillance missions to keep an eye on the People's Liberation Army's Navy ships and submarines in the Indian Ocean region.
Lanba said that the Navy is finalising design of the second indigenous aircraft carrier and will soon seek the government's approval. He added that 40 ships, four submarines and 12 aircraft are deployed far and near to protect the Indian waters. — IANS