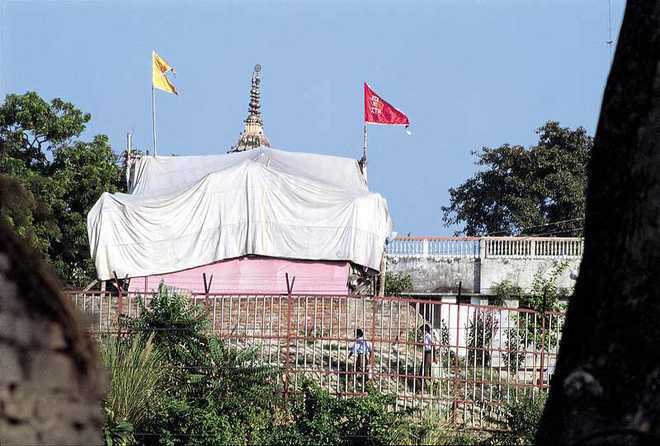 Ayodhya, February 19
Three plaintiffs in Babri Masjid-Ram Janmabhoomi case have said they will not accept any out-of-court settlement.
At a gathering of local Muslims here in which the plaintiffs - Haji Mahboob , Iqbal Ansari and Mohammad Umar -- were present, a resolution was passed that the "Muslims will not shift the mosque" to any other site or gift the land to any party, according to a press statement issued after the meeting which was held on Saturday.
It said the Hindus can build Ram temple on Ram Chabootra in the outer court yard of Babri Masjid.
The resolution also rejected any out-of-court settlement in Babri Masjid/Ram Janmabhoomi case and said Muslims will only obey the Supreme Court verdict, it said.
Among those who signed the resolution were the three plaintiffs, the statement said, claiming that the meeting was attended by the representatives of Barelvi, Deobandi and Shia sects of Muslim community.
The development comes amid efforts by Art of Living founder Sri Sri Sri Ravishankar and Muslim cleric Maulana Salman Nadvi for an out -of-court settlement in the Ayodhya dispute.
Talking to PTI, plaintiff Haji Mahboob said they have no objection Hindus build Ram Mandir on Ram Chabootra.
"Babri Masjid was never built after demolishing any temple. Before December 22, 1949, Muslims offered regular 'namaaz' there. Before 1949, Hindu brothers never staked claim on Babri Masjid.
"Since 1885, the place named as Ram Chabootra situated outside Babri Masjid was observed as Ram Janm Sthan and regular puja of Ram Lalla was done there," he said.
"We have no objection if Hindu brothers build Ram Mandir on Ram Chabootra situated in the outer court yard of Babri Masjid, said Mahboob," Mahboob said.
Meanwhile, the chief priest of Ayodhya's famous Hanuman Garhi temple and president of Ram Janmabhoomi Mandir Nirmaan Samiti (Hindu Mahasabha) came out in support of Islamic cleric Maulana Salman Nadvi.
Nadvi was mired in a controversy after president of Ayodhya Sadbhavna Samiti Amarnath Mishra alleged that he had demanded money for supporting the construction of Ram temple in Ayodhya.
Hanuman Garhi priest Mahant Gyan Das said allegations against Nadvi are "baseless and fake".
Das also alleged that "Mishra tried to offer me payment of Rs five crore for issuing a statement in Babri Masjid/Ram Janmabhoomi issue which I denied". — PTI
Top News
Voting for final phase of Gujarat polls ends, counting of vo...
'You (government) are only filing FIRs, but according to you...
Final voting figure expected to rise further as collecting d...
The Delhi govt opposes the Centre's plea saying it will only...
This comes as a major embarrassment to CM Bhagwant Mann who ...