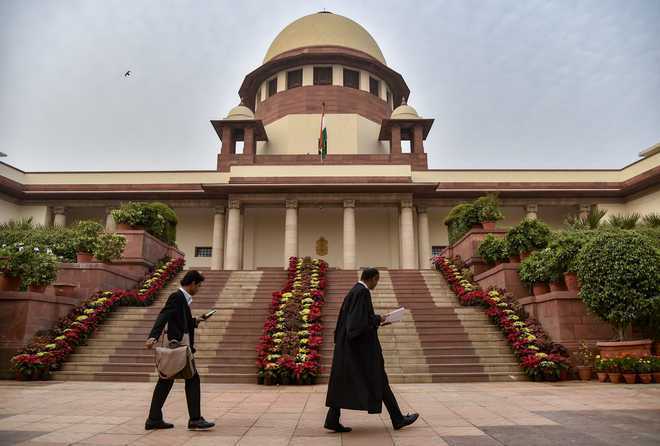 Tribune News Service
New Delhi, October 15
Ayodhya land dispute hearing, which commenced on August 6 is likely to end on Wednesday, Chief Justice of India Ranjan Gogoi who is heading a five-judge Constitution Bench indicated on Tuesday.
At the end of the 39th day of hearing on Tuesday, the CJI said 45 minutes will be given to senior advocate CS Vaidyanathanand who is appearing for Ram Lalla and one hour to senior advocate Rajeev Dhavan, representing Muslim parties.
"Additionally, four slots of 45 minutes each is available…You distribute it among yourselves," CJI Gogoi told lawyers for the parties before the Bench rose for the day.
Earlier, during the hearing senior advocate K Parasaran told the Bench on behalf of a Hindu party to the case that a "historical wrong" was committed by Mughal emperor Babur after his conquest of India over 433 years ago by constructing a mosque at the birthplace of Lord Ram in Ayodhya which needed to be corrected.
"Please do the reparation of a historical wrong committed by foreign ruler Babur who came here and said that I am the Emperor and my fiat is the law," the senior lawyer, appearing for Mahant Suresh Das, who is a defendant in a law suit filed by Sunni Wakf Board and others in 1961, told the apex court on the 39th day of hearing in the case.
"Muslims can pray in any other mosque in Ayodhya. There are 55-60 mosques in Ayodhya alone. But, for Hindus this is the birthplace of Lord Ram...Which we cannot change," he told the Bench.
The top court has been hearing 14 cross-appeals since August 6 against the Allahabad High Court's September 30, 2010 judgment equally dividing the disputed land between Ram Lalla, Nirmohi Akhara and Muslims after mediation attempts to resolve the dispute failed.
The Bench—which also comprised Justices SA Bobde, D Y CHandrachud, Ashok Bhushan and SA Nazeer – will resume the hearing on Wednesday.
Hindus believe that Lord Ram was born in Ayodhya thousands of years ago. During Mughal emperor Babur's rule, a mosque was constructed at the place in 1528 after destroying the temples existing there. On December 6, 1992, the disputed structure was demolished by Hindu activists and since then there exists a makeshift temple at the disputed site.
Parasaran said Hindus have been fighting for centuries for the birthplace of Ram which cannot be changed. However, for Muslims all mosques were equal.
Senior counsel Rajeev Dhavan, appearing for Muslim parties, objected to Parasaran's submissions, saying he was raising new issues.
At one point Vaidyanathan and Dhavan had heated exchange over frequent interruptions by the latter.