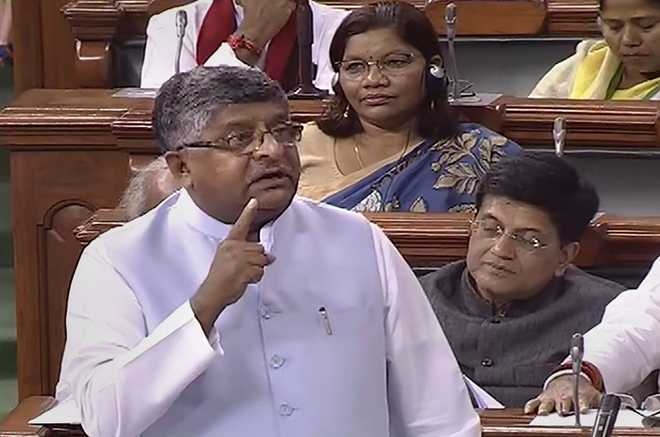 Tribune News Service
New Delhi, June 24
The government today asserted that Aadhaar is "in the interest of the nation and does not violate privacy".
Introducing the Aadhaar and Other Laws (Amendment) Bill, 2019, amid opposition by the Revolutionary Socialist Party (RSP), Union Law Minister Ravi Shankar Prasad said "all issues raised here have been dealt with elaborately by the Supreme Court. Aadhaar is a valid law. It is in national interest and does not violate privacy. People of India are accepting Aadhaar".
Responding to concerns raised by RSP's NK Premachandran, Prasad said there was no mandatory compliance. "A SIM card can be taken either by Aadhaar or any other document. As many as 68 crore people have taken SIM cards through Aadhaar and 65 crore bank accounts are linked through Aadhaar."
Objecting to the legislation, Premachandran said, "First, the Bill violates the SC judgment dated April 26, 2018. Second, it allows private entities to hold Aadhaar data… and finally, it violates the fundamental rights." Asserting that there was no mandatory compliance because SIM cards can be taken with or without Aadhaar, Prasad said: "In this law, we have proposed that the child's consent will be taken after he becomes major. Secondly, there is a provision for offline verification also. Thirdly, if any other body seeks authentication, it will be allowed either if a law permits or if the UIDAI permits them, having due regard to security, privacy and any state interest. Therefore, all the Supreme Court directions have been complied with."
The Bill proposes the voluntary use of Aadhaar as an identity proof for opening bank accounts as well as procuring mobile phone connections. It also proposes to give children an option to exit from the biometric ID programme on attaining 18 years of age. The legislation provided for an individual to voluntarily use her Aadhaar number to establish her identity, by authentication or offline verification for obtaining services such as opening a bank account, or new SIM connection, etc.
About amendment
Deletion of Section 57 of Aadhaar Act, which will prevent denial of services for refusing to, or being unable to, undergo authentication
Civil penalty of up to Rs 1 crore on entities that violate provisions of Act, with additional fine of up to Rs 10 lakh per day in case of continuous non-compliance
Unauthorised use of identity information by a requesting entity or offline verification seeking entity would be punishable with imprisonment of up to three years with a fine
Punishment for unauthorised access to Central Identities Data Repository as well as data tampering is proposed to be extended to 10 years each from the current three years
Top News
The accused ASI was nabbed by local people, who then handed ...
Two frontline combat aircraft of the IAF crashed during a tr...
Gandhi was accompanied by his sister and Congress general se...
The decision was taken after an independent investigation in...
SWAT team member Gursewak Singh later dies by suicide in Mog...