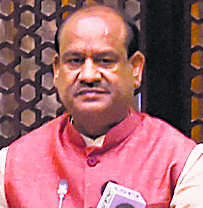 Jaipur/New Delhi, September 11
Lok Sabha Speaker Om Birla's comments that Brahmins always held a high place in society kicked up a row on Wednesday with Opposition parties dubbing it as "casteist remarks". Independent MLA from Gujarat Jignesh Mevani demanded an apology.
"Brahmins have always had a high position in society. This position is the result of their sacrifice and dedication. This is the reason that Brahmin society has always been in the role of a torch-bearer," Birla tweeted. The People's Union for Civil Liberties (PUCL) also condemned the Speaker's remarks, posted on Twitter after attending a Brahmin Mahasabha event in Kota on Sunday. They said they would complain to President Ram Nath Kovind.
Congress MP Karti Chidamberam said it did not behove the Lok Sabha Speaker to make such remarks. "This is the true face of @BJP4India Hindutva. A hierarchy of caste," he said in a tweet.
All-India Majlis-e-Ittehad-ul-Muslimeen (AIMIM) chief Assaduddin Owaisi said, "Sir with due respect, the Constitution promises justice, equality and fraternity to all... We can't live in an India where one caste is superior to others". Demanding an apology, Mevani said, " It's a joke on us that a casteist like him is our Lok Sabha speaker. He should publicly apologise for this attitude." — PTI