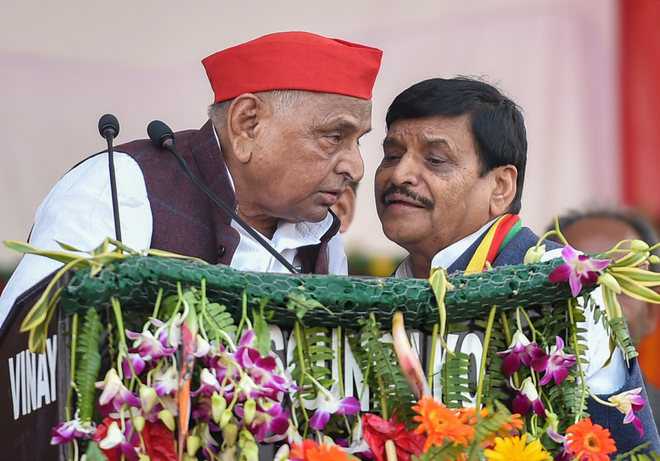 Lucknow, December 9
Pragatisheel Samajwadi Party-Lohia (PSPL) chief Shivpal Singh Yadav hit out at the BJP on Sunday, alleging the saffron party had "weakened" the country and wanted to "instigate riots" for political gains in the 2019 Lok Sabha elections.
Addressing the 'Jan Aakrosh Rally' here, the first such event after the party was formed this October, Shivpal said, "The BJP has weakened the country. We will oust the BJP from power at the Centre and in Uttar Pradesh... We want peace and brotherhood, the communal people want to instigate riots."
Adding an element of surprise at the gathering was the SP patriarch and Shivpal's elder brother Mulayam Singh, who attended the rally barely two days after sharing the stage with his son and SP chief Akhilesh Yadav in Firozabad.
Mulayam Singh, addressing the gathering, started speaking about the SP rather than the PSPL. "The SP carries everyone along, treats all human beings as equal, irrespective of their caste and religion, so make the SP stronger," he urged the gathering, leaving Shivpal nonplussed.
Mulayam Singh stopped referring to the SP only after he was nudged by the PSPL chief. The SP founder's younger daughter-in-law was at the rally too. Continuing with his attack on the ruling party, Shivpal said, "The then BJP government (in UP) had submitted an affidavit, assuring security (of the Babri mosque). But despite the affidavit, the Babri mosque was demolished. They want to spread the same fire in the country. At the Dharam Sabha in Ayodhya on November 25, there were efforts to vitiate the atmosphere. Workers of the PSPL came out on the streets so that there were no riots." Shivpal said there should not be any temple on the disputed land. — PTI