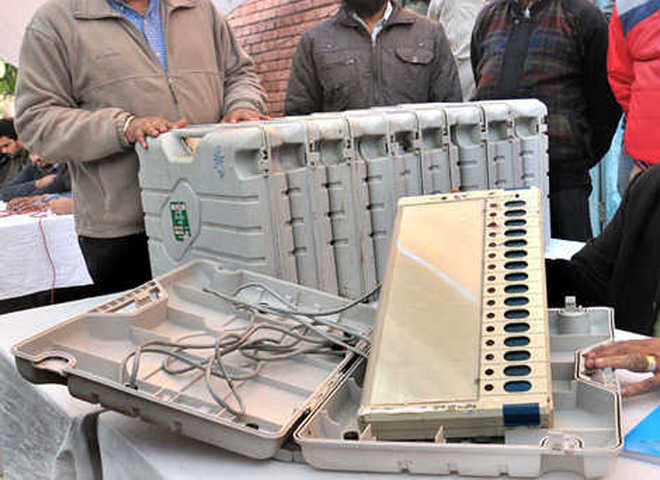 Tribune News Service
New Delhi, August 27
The Election Commission on Monday said it would provide a "satisfactory solution" to the concerns raised on the infallibility of electronic voting machines (EVMs), as the Congress-led Opposition demanded return to paper ballots for the 2019 General Election.
Talking to mediapersons after an all-party meeting convened by the poll panel to discuss a host of electoral issues ahead of state elections later this year and the 2019 Lok Sabha polls, Chief Election Commissioner OP Rawat said: "We will definitely look into all suggestions given by them (political parties) and there will be a satisfactory solution to them."
Even as the issue of EVM was not part of the agenda of the meeting, which was attended by representatives of 41 recognised national and state parities, several participants from the Opposition block raised the issues of voting machine tampering and technical glitches in the voter verifiable paper audit trail (VVPAT) system.
Noting that nothing final had yet been decided on the issue, a senior EC official, however, said: "One way to allay fears could definitely be to increase the number of constituencies where EVM and paper trail machine results are matched."
Asked for a specific answer to the EVM question, Rawat said the panel had to take a "comprehensive view".
Noting that the BJP and allies stood isolated, Congress leader Abhishek Manu Singhvi said: "I reject any suggestion that majority parties were against paper ballot.
Parties overwhelmingly supported paper ballot today unless the EC is calculating based on the number of seats the BJP has rather than the number of parties that attended its meeting." He claimed that 70 per cent of Opposition parties demanded that paper ballot be used in 2019 elections. The Congress, SP, BSP, RLD, RJD, JDS, NCP, AAP and part of the Left, Singhvi said, were for replacing EVMs.
"If the EC says that's not possible, at least in 30 per cent cases EVM results must be matched with paper ballots. Parties further demanded that the EC should tell people which institutions were involved in repairing malfunctioning EVMs besides publicly sharing the specifications of old and new generation EVMs," Singhvi said.
Union Minister JP Nadda claimed the EC's effort in matching EVM results with VVPAT was a good move. When asked about the Congress demand for a return to paper ballot, he said the party's "habit of looking forward has ended".
Other issues raised
Make paid news an electoral offence
Link Aadhaar with voter's detail for better electoral roll management
Like DD and AIR, free airtime to parties on private media platforms
Top News
Delhi's 24-hour average air quality index stood at 407 at 4 ...
The counting of votes will take place on December 7
In his speech at IFFI-2022, Lapid had said he was 'disturbed...
The seized drugs are the spurious versions of leading brands...
The follow-up programme of Bharat Jodo Yatra will have yatra...