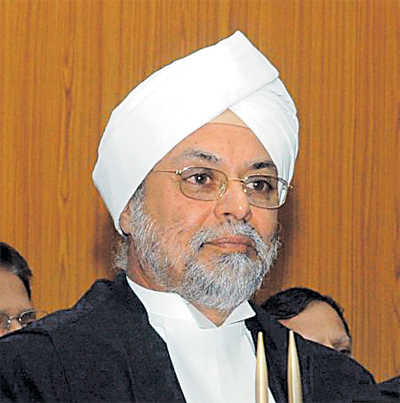 Satya Prakash
Tribune News Service
New Delhi, March 21
Maintaining that a negotiated settlement of the Ayodhya temple dispute was a better option, Chief Justice of India JS Khehar today offered to play a mediator to find a solution if the parties agreed to it.
The CJI, however, said if he mediated, he would not hear the case on the judicial side, should it remain unresolved.
The CJI's suggestion came after senior BJP leader Subramanian Swamy requested the court to hear the appeals against the September 2010 verdict of the Lucknow Bench of the Allahabad High Court. He wanted the CJI to set up a Bench to hear the matter at the earliest.
(Follow The Tribune on Facebook; and Twitter @thetribunechd)
Justice Khehar, who was heading a three-judge Bench, repeatedly said a mediated amicable settlement to the Ram Janmabhoomi-Babri Masjid dispute was a better option than a judicial determination of the issues involved.
"Any person of your choice... you want me to mediate... but I will not hear it (on the judicial side)… you want my brother judges (Justices DY Chandrachud and SK Kaul)... there are no issues... you all sit together and decide," the Bench told Swamy.
The CJI's suggestion comes barely two days after the BJP came to power in Uttar Pradesh with Yogi Adityanath as Chief Minister. All past attempts at a negotiated settlement came to a naught as the parties could not reach a consensus.
Swamy said the Centre had in an affidavit in 1994 said it would hand over the disputed land for construction of the temple if it was proved that the Babri Masjid was built on a pre-existing temple. He said it had been proved by the Archaeological Survey of India and the Allahabad HC had accepted it.
Swamy suggested that the mosque could be constructed across the Sarayu river. As the court asked Swamy to talk to the other side, the BJP leader said the court should issue some directions even for mediation. "I spoke to them, they want the court to intervene," Swamy told the Bench.
"You must make fresh attempts to arrive at a consensual decision. If required, you must choose a moderator to end the dispute. If the parties want me to sit with mediators, I am ready. Even the services of my brother judges can be availed," the CJI said.
The Bench asked Swamy to mention the matter on March 31 when it would decide whether to attempt mediation. The SC is seized of appeals against the HC ruling that ordered partition of the suit property between Ram Lalla, Nirmohi Akhara and Sunni Wakf Board.