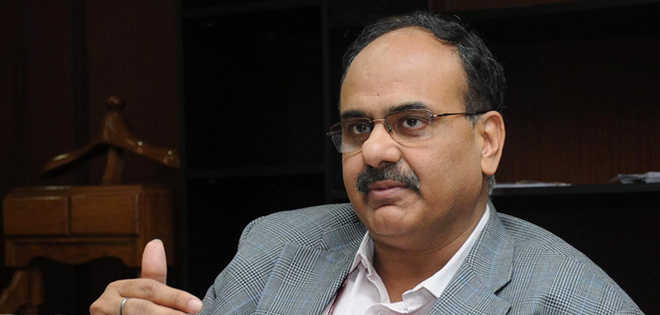 Satya Prakash
Tribune News Service
New Delhi, March 22
Seeking to dispel "misgivings" on Aadhaar, the Centre on Thursday asserted before the Supreme Court that biometric details of individuals were not shared with anyone and it was almost impossible to break its encryption even as the court asked questions regarding denial of benefits for want of biometric authentication.
"Aadhaar provides a robust, lifetime, reusable, nationally on-line verifiable ID card to citizens," said Unique Identification Authority of India (UIDAI) CEO Ajay Bhushan Pandey, who was fielded by the government to defend the 12-digit biometric identification number.
Making a power-point presentation before a five-judge Constitution Bench headed by Chief Justice of India Dipak Misra, he said Aadhaar software was not linked to Internet because the government was aware that some people might hack it.
The Bench - which also included justices AK Sikri, AM Khanwilkar, DY Chandrachud and Ashok Bhushan - asked several questions on security and protection of data collected at enrolment centres, fear of data theft as the software used was foreign and blacklisting 49,000 enrolment centres by the UIDAI. It also asked about a Jharkhand woman who died after being denied ration for want of Aadhaar authentication.
Pandey, who heads the nodal agency implementing Aadhaar project, said only the software used for biometric matching was foreign and the companies didn't share the "source code". Even banks were using them, he added.
It was for the first time that a senior official made power-point presentation before the Supreme Court in such a manner. Pandey will resume his presentation on March 27.
Asserting that UIDAI had "zero tolerance policy" towards corruption, Pandey said some of the enrolment centres were blacklisted as they were charging money from individuals and harassing them.
Regarding exclusion of citizens from government schemes and benefits for lack of authentication for data mismatch, Pandey said for those unable to give biometrics due to old age or any other reason, there was an exception-handling mechanism in place.
In such cases, authentication will be on the basis of photographs and their mobile number verifiable through an OTP. Even face authentication will be there from July this year.
Top News
Odisha government has issued helpline 06782-262286. The rail...
At least 50 people died and 350 were injured in a three-way ...
12837 Howrah-Puri Superfast Express, 12863 Howrah-Bengaluru ...
WFI chief demanded sexual favours in lieu of supplements and...
Said agitation will be intensified by holding panchayats acr...