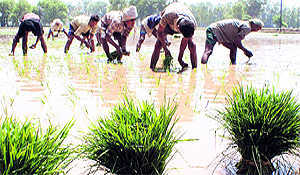 R Sedhuraman &
Vibha Sharma
tribune news service
New Delhi, February 20
The government today told the Supreme Court that it was not possible to increase the minimum support price (MSP) for foodgrains and other farm produce on the basis of input cost plus 50% as it would distort the market.
The government filed an affidavit to this effect in response to the court notice on a PIL that has sought implementation of the BJP's manifesto for the 2014 Lok Sabha election, promising a hike to ensure 50% profitability to farmers.
The Centre noted that the Commission on Agricultural Costs and Prices had recommended MSP for 22 commodities and fair and remunerative prices for sugarcane.
MSP was not worked out on the basis of "cost plus" by taking into account the expenses incurred by the farmers and a reasonable margin they were supposed to get. The BJP manifesto had assured a minimum of 50% profits over the cost of production for farmers, which key growing states, including Punjab, have been demanding since long. Though now the government seems to be inclined towards overhauling the entire way foodgrains are procured and incentivised in India.
Notably, an FCI review committee had also recently recommended a review of "highly-skewed" incentive structures (MSP) in favour of wheat and rice and asked the government to carry
out a complete revamp of grain procurement system in the country.
It said the FCI should help states where farmers suffer from distress sales at prices much-below MSP and dominated by small holdings, like Eastern Uttar Pradesh, Bihar, West Bengal and Assam.
So while the government wants to spread the MSP' benefits across the country, there is another issue.
High MSPs of wheat and rice are prompting farmers to grow more of these food grains, thereby putting procurement agencies in a fix who have to struggle with the problem of plenty and limited storage spaces. A couple of years back the CACP had even recommended fixing the MSP of main cash crops at levels prevailing at that point in time, a decision which could not be implemented because of political reasons.
Clearly the government wants to incentivise crops like pulses and oil
seeds, which it is forced to import and spread the benefit of the MSP to states beyond Punjab, Haryana, Andhra Pradesh, Chhattisgarh, Madhya Pradesh and Odisha.
The FCI has already asked north eastern states to develop a plan for procurement of foodgrains basic mandi (market yards) infrastructure and milling capacity.
Top News
After a wait of over two years, India will have a full-fledg...
The petitioner contends that the automatic disqualification ...
Upon his arrival at the CBI headquarters at around 10.30am, ...
Paid price for raising Adani issue: Congress | 'Anti-OBC, fe...