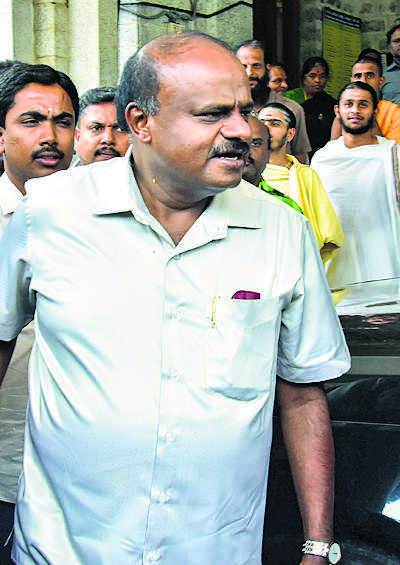 New Delhi/Bengaluru, July 17
The survival of the 14-month-old Congress-JD(S) government in Karnataka hangs precariously on the eve of trust vote with the Supreme Court today holding that the 15 rebel MLAs cannot be compelled to participate in the proceedings of the ongoing Assembly session.
"We make it clear that until further orders, the 15 members of the Assembly ought not to be compelled to participate in the proceedings of the ongoing session of the House and an option should be given to them that they can take part in the proceedings or opt to remain out of the same. We order accordingly," the court said in its three-page order.
As the court order virtually sounded the death knell for Chief Minister HD Kumaraswamy government in the battle for numbers on the floor of the House, a Bench headed by Chief Justice Ranjan Gogoi in its order at the same time gave Assembly Speaker KR Ramesh Kumar the freedom to decide on the resignation of the 15 MLAs within such time-frame as considered appropriate by him.
Locked in an intense face-off with rebel MLAs whose resignation he has refused to accept that would have led to the collapse of the government after being reduced to a minority, Speaker Kumar welcomed the court decision and said he would conduct himself responsibly in accordance with the principles of the Constitution.
Hailing the decision, the rebel MLAs camping in Mumbai said there was no question of going back on their resignations or attending the session while Karnataka BJP chief BS Yeddyurappa said Kumaraswamy would have to resign tomorrow on facing the confidence vote.
The court order on pleas by rebel MLAs for a direction to the Speaker to take a decision on their resignations comes a day before the Congress-JD(S) government faces a floor test that will end the suspense over the numbers game triggered by a raft of resignations by lawmakers of the ruling coalition.
While 16 MLAs—13 from the Congress and three from JD(S)—have resigned, Independents S Shankar and H Nagesh have withdrawn their support to the coalition government. — PTI
---
'Terrible precedent'
SC's order nullifying the whip and by extension, operation of Constitution's 10th Schedule to punish MLAs betraying the public mandate, sets a terrible judicial precedent! — Randeep Surjewala, Cong leader
.