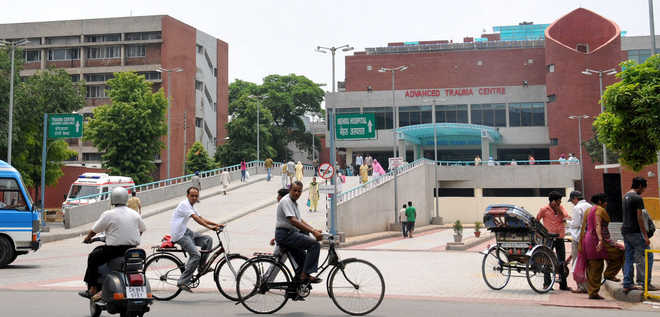 Aditi Tandon
Tribune News Service
New Delhi, September 1
The government was at its wit's end as it made desperate efforts to stop government nurses across India from going ahead with their strike which they began on Thursday.
The All India Government Nurses Federation had given a call for strike from September 1, unless nine of their demands, including some which did not fall in the Health Ministry's domain, were met.
With the vector-borne diseases reaching alarming proportions across India, mainly in Delhi (around 500 dengue and 600 chikungunya cases), the Health Ministry again reached out to nurses on Thursday and told them it had made positive recommendations to the Ministry of Finance in respect to their demands on pay scale revision and upward revision in a range of allowances.
"The nurses had nine demands. We have agreed to seven and have even communicated this to them. The remaining two--pay scale revision and allowance revision--do not fall under us. These pertain to the Finance Ministry and are part of the Central Pay Commission's recommendations. The Health Minister has still, keeping the stress season in view, forwarded to the Finance Ministry even the remaining two demands for approval. The ball is now in the Finance Minister's court," Health Secretary CK Mishra said.
The strike will affect health care services across government hospitals in India and involves all nurses serving in central government institutes like the PGI Chandigarh and other state government hospitals.
The number of nurses on strike is estimated at 70,000.
In Delhi government hospitals alone, 25,000 nurses have gone on strike in favour of their demands. This at a time when the dengue and chikungunya cases are going through the roof and poor patients are reeling under a health care crisis.
The Supreme Court has time and again urged essential health service cadres to keep public welfare before personal interests.
That has, however, not stopped doctors or nurses in the past from striking work.
Recently, the SC asked the MCI to come down heavily through state medical councils on doctors who went on strike without care for patients.
Save the Punjab Medical Council which put some doctors on notice in the past for striking work, no other state medical council has acted in this direction.