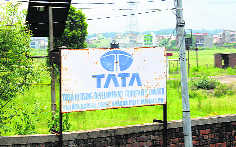 Rajinder Nagarkoti
Tribune News Service
Chandigarh, May 28
The Union Ministry of Environment and Forests (MoEF) has "prima facie" found merit in the recommendations by the Chandigarh administration for declaring an eco-sensitive zone (ESZ) around the Sukhna Wildlife Sanctuary.
But instead of an ESZ measuring 100 metres in radius, as suggested by the Punjab government, the UT administration wants it to be at least 1 km—or up to 2.5 km.
Union Minister of State for Environment, Forests and Climate Change Prakash Javadekar has, through a letter, asked the UT Administrator and Punjab Governor, Kaptan Singh Solanki, to raise the matter with the Punjab government so that adequate area could be notified as ESZ. The Punjab Raj Bhawan received the letter on March 3. The ministry has also said that the ESZ should be "as representative as possible".
The Punjab Cabinet had agreed upon the 100-metre ESZ limit (outside the sanctuary's boundary in the state) during a meeting on August 8, 2013. It had even conveyed its decision to the Union Environment Ministry. The proposal, though, was objected to by the UT administration.
The Union Environment Minister's letter read: "The Union Territory of Chandigarh (vide letter dated July 25, 2014) informed that this limit (Punjab's limit) of 100 metres is very small, particularly when the areas adjoining Sukhna Wildlife Sanctuary in Punjab are being developed as high-density areas in Nayagaon civic area. Therefore, the UT recommended that at least 1-km area should be notified as ESZ in Punjab.
"My ministry prima facie finds merit in Chandigarh's recommendations that the ESZ should be as representative as possible," wrote Javadekar.
Camelot may benefit
If the ESZ area is reduced to 100 metres, as proposed by Punjab, the Tata Camelot housing project stands a chance to get all clearances, say experts
The Tata project site is a mere 123 metres towards the north and 183 metres on the eastern side of the sanctuary
These are the 2011 findings by a Union green ministry team
The Tribune had, through a series of reports, highlighted how the housing project could affect the wildlife sanctuary due to air, noise and water pollution
Top News
A cavalcade of seven security vehicles took Harjit Singh fro...
Mobile internet services in the remaining areas of the state...
Indian-Americans express outrage at the incidents of vandali...
The budget was to be presented on Tuesday
Kishida's surprise trip to Ukraine comes just hours after he...