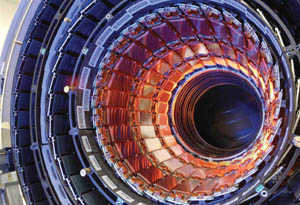 Pallava Bagla
New Delhi, August 28
Human sacrifice, Lord Shiva's statue, nuclear institute, God Particle, European laboratory in a cavern, mini black holes all makes for a heady mysterious mix.
When a creepy grainy video emerges from inside a haloed scientific institution showing a so-called 'human sacrifice' being committed at that global temple of learning where more than 100 nations are co-operating in Geneva called the European Organisation for Nuclear Research or CERN, it spooked many.
CERN has launched an internal investigation to get to the truth of the matter while confirming the veracity of the video as having been shot within its highly secure premises, but called it a 'fictional' depiction.
(Follow The Tribune on Facebook; and Twitter @thetribunechd)
This act has riled many scientists, especially in India, since the 'human sacrifice' is shown being conducted with the backdrop of giant statue of Lord Shiva in his Nataraja pose performing the 'tandava' or the cosmic dance. The over 5-m-tall statue was gifted by the Indian government to the Geneva-based atomic research centre about a decade ago. CERN is not alone to these acts of irrational behaviour by scientists. It is quite common place in many countries. In the US, engineers at NASA's planetary missions control room invariably eat peanuts when a satellite is being manoeuvred into the Martian orbit since they believe it brings a good omen they believe.
The top brass of the Indian Space Research Organisation (ISRO) visit in their 'private time' the temple of Lord Balaji in Tirupati to seek his blessings before a rocket launch and made a habit of placing mini models of the rocket and satellite to the gods. The fear of the unknown drives many of these irrational behaviours by otherwise highly scientifically oriented people. But, what happened at CERN is most bizarre.
The video is shot as if the eavesdropper was taken by surprise by the happenings they chanced upon and the clip ends with expletives. Whether the video is fictional or real is still a matter of investigation but undoubtedly it was meticulously planned and possibly rehearsed. Clarifying the position, the spokesperson for CERN said, "This video is a work of fiction showing a contrived scene. CERN and its on-site accommodation fills up with scientists from across the world coming to CERN as part of their work.
Indian atomic scientists involved with the gifting of the giant Chola Bronze statue were flabbergasted that such indiscretion and insensitivity could have happened within the highly secure premises where entry and exit is both highly controlled. It seems irrationality knowns no national boundaries.
(The writer is a science columnist and writes every week for PTI)
Top News
The accused ASI was nabbed by local people, who then handed ...
Two frontline combat aircraft of the IAF crashed during a tr...
Gandhi was accompanied by his sister and Congress general se...
The decision was taken after an independent investigation in...
SWAT team member Gursewak Singh later dies by suicide in Mog...