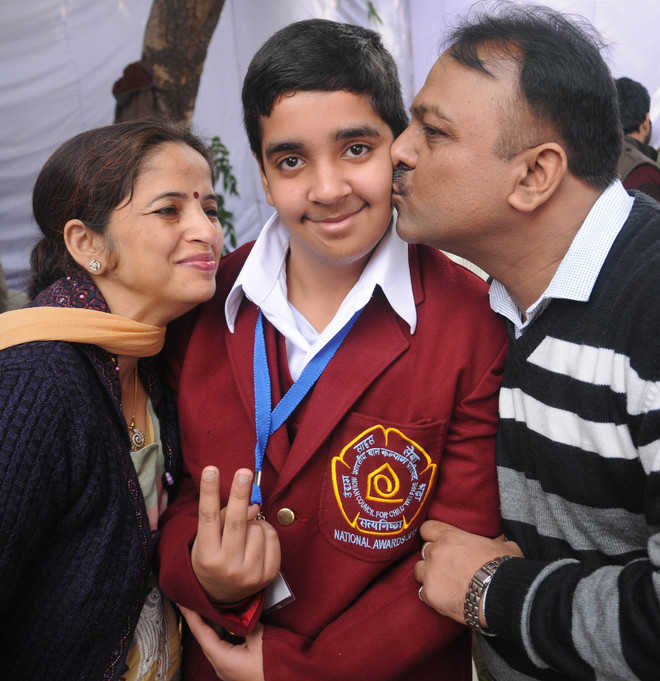 Tribune News Service
New Delhi, January 18
The child bravery award winners are keen to serve the nation and want to achieve their aim through a career in defence and police services.
Dishant Mehndiratta wants to join the Navy. Fascinated by the sea, he thoroughly enjoyed a recent visit with his family to Mumbai and Goa. His quick thinking and lightening fast action helped overcome a sticky situation when a robber threatened his mother at their Panchkula home. He was already bleeding from the cut on his face, but the urge to save his mother drove young Dishant to fall at the robber's feet, pull his leg and snatch his knife. He then overpowered the assailant with his mother's help and raised an alarm. Neighbours came to their aid and the robber was arrested.
"The man had put a knife at my mother's throat and wanted to rob us. All I was thinking was how to snatch his knife and save my mother," said Dishant as he explained how he pretended to seek mercy at the assailant's feet in order to grab the weapon from him.
Twelve-year-old Dishant was at home with his mother and younger brother when a man came to their Panchkula home on April 4, 2015, and said he wanted to meet his father. It was only when the assailant took out a knife that the three realised that they had let an armed robber into the house.
As 10-year-old Joena Chakraborty chased the man who had snatched her father's mobile phone in Delhi, she was only thinking that something wrong had been done. She started chasing the man across a busy Delhi street after her father shouted that his cellphone was missing.
"I knew he would head for a narrow alley, so I reached there before him and caught his legs even though people were shouting that he had a knife," Joena said during a function organised by the Indian Council for Child Welfare for Bravery Award winners.
Joena also has suggestions ready for Prime Minister Modi's Swachh Bharat Abhiyan. "There should be a Swachh Bharat army of people empowered to collect fines from litterbugs. People who litter must be fined. Repeat offenders should be fined double. Photos of offenders should be publicised to shame them," said Joena who wants to join the police when she grows up.
Sixteen-year-old Arjun Singh will receive the Sanjay Chopra Award this year for saving his mother from a tiger which entered their home in Malgaon village of Tehri Garhwal in Uttarakhand. Arjun's mother was feeding cattle when the tiger approached their home on July 16, 2014. She screamed and then fell unconscious. Arjun rushed out of his house and picked up a sickle. However, realising that using the sickle would take him too close to the large feline, he quickly picked up a stick and waved it at the tiger. By this time, neighbours came to the house and the tiger fled. Arjun is keen on a career in the Army.
Top Stories