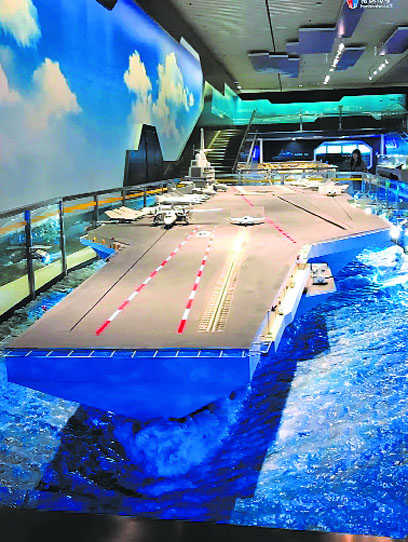 Ajay Banerjee
Tribune News Service
New Delhi, March 18
In what could be a deliberate move, China's state-owned shipbuilder has revealed, and then removed from its website, plans for a massive naval scale-up, including a nuclear-powered sea-going aircraft carrier of 1 lakh tonnes and a new set of nuclear submarines that would be more silent while operating underwater.
The state-owned China Shipbuilding Industry Corporation (CSIC), which runs Dalian shipyard where China builds its aircraft carriers, revealed future plans with models last week only to later remove the same from its website. This could possibly be a deliberate move to tell the world what's coming, especially as India expands to dominate greater parts of the Indian Ocean while Japan is adding to its naval fleet and the US has increased its naval presence in South-East Asia.
The CSIC is a major shipbuilder for the People's Liberation Army Navy (PLAN) and its biggest item could be China's first nuclear-powered carrier. In strategic circles, this is identified as "Type 003". Till now, there were only estimates on its size, structures and operations. Now, it seems, this will be the largest non-American warship in the world. China already has two diesel-electric powered carriers—the Ukraine-built "Liaoning" and the domestically built carrier, CV-17, launched in 2017.
Only the US and France, operate nuclear-powered carriers. The Chinese one is expected to displace between 90,000-100,000 tonnes and have electromagnetically assisted launch system (EMALS) for fighter jets (only the US has tried these, so far). It will possibly carry J-15 fighters, J-31 stealth fighters, airborne early warning and control aircraft, anti-submarine warfare helicopters, and stealth attack drones.
A nuclear-powered carrier will give China unlimited endurance at sea as the ship will not need to stop for fuel, and water is nowadays recycled from sea.
The CSIC website also said it would build a new nuclear-powered submarine, likely to be called Type 095 nuclear-attack submarine (SSN). Compared to the existing Shang Class nuclear submarines, the 095 SSN will include new noise-reduction measures. The CSIC said it was also working on a separate "quiet" submarine, autonomous robot submarines or what are called the armed unmanned underwater vehicles (UUVs). Autonomous UUVs, armed with torpedoes and missiles, could undertake missions that manned vessels cannot.
Separately, the US Department of Defence, in its annual report to the Congress titled "Military and Security Developments Involving the People's Republic of China 2017", warned: "The PLAN lays high priority on the modernisation of its submarine force. It currently possesses 63. By 2020, this force is likely to grow to 78."
Top News
Congress' state in-charge says the party is tipped to get th...
Launches attack against nepotism and graft; seeks collective...
Says Congress will oppose attempts to put leaders like Gandh...
Chandrashekhar Harbola was part of a 20-member troop that wa...
One attack occurred at a minority habitation in Chadoora in ...