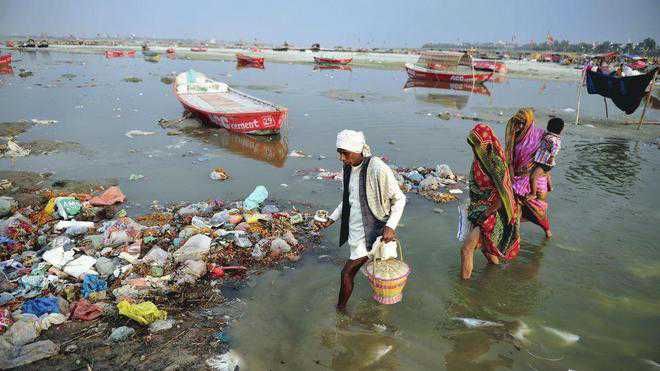 Vibha Sharma
Tribune News Service
New Delhi, October 13
While the government and many others profess commitment to the holy Ganga — keeping it "aviral and nirmal" as campaigners like late GD Agarwal had been demanding — the government records narrate a different tale.
According to documents accessed under the Right to Information (RTI) by Ropar-based activist Dinesh Chadha from the Ministry of Water resources, River Development and Ganga Rejuvenation, the Narendra Modi-led government released just about Rs 5,500 crore from 2013-2014 till June 30, 2018, for the National Mission for Clean Ganga (NMCG).
The government has promised to spend about Rs 20,000 crore for rejuvenation of the national river. The apathy towards Ganga gets further highlighted with another piece of information accessed by Chadha. The NMCG through its website had requested companies to serve the holy river by adopting CSR projects — ghat construction, cleaning of ghat, IEC activities, bio-remediation of nalas and drains Ganga gram, crematoria, river surface cleaning using trash skimmer, solid waste management and tree plantation, etc — but as per the RTI, no company adopted any project, at least till July 30, 2018.
The list of individual contributors to the CGF does not include any of the "politicians who play politics on the name of Ganga", says Chadha. But with a contribution of Rs 1 crore, Dr Simon John, Delhi Diocese of Believers Church, is the highest contributor among the 1,523 resident Indians who together gave about Rs 2.36 crore.
Meanwhile, around Rs 255 crore was collected by the CGF under the CSR till July 27, 2018. Though the document do not reveal how much of it was actually utilised, a Parliament reply in March stated that till January 31, 2018, the Rs 221.75 crore collected under the head had remained unutilised.
In March, Minister of State for Water Resources Satyapal Singh told Parliament that "as on date no fund has been utlised by the Namami Mission for Clean Ganga under the CGF". Gujarat contributed Rs 8.36 crore to the CGF between March 13, 2015, and March 31, 2016; 145 NRIs contributed Rs 24.92 crore and 224 private companies Rs 25.76, with Bank of America contributing the highest Rs 4 crore.
Another activist on fast rushed to AIIMS
Two days after Ganga activist GD Agarwal died at AIIMS in Rishikesh, another person fasting for conservation of the river was rushed to the institute early on Saturday
Sant Gopaldas, 36, had been fasting for 110 days. He stopped drinking water three days ago. The administration has given permission to AIIMS to take any measures they deem fit to save Gopaldas' life, including force-feeding
RTI revelations
As per information procured by Ropar-based RTI activist Dinesh Chadha from the Ministry of Water Resources, the list of individual contributors to the Clean Ganga Fund (CGF) does not include any politician. Around Rs 255 crore was collected by the CGF under the CSR till July 27, 2018
With contribution of Rs 1 crore, Dr Simon John, Delhi Diocese of Believers Church, is the highest contributor among the 1,523 resident Indians who together gave about Rs 2.36 crore
Top Stories