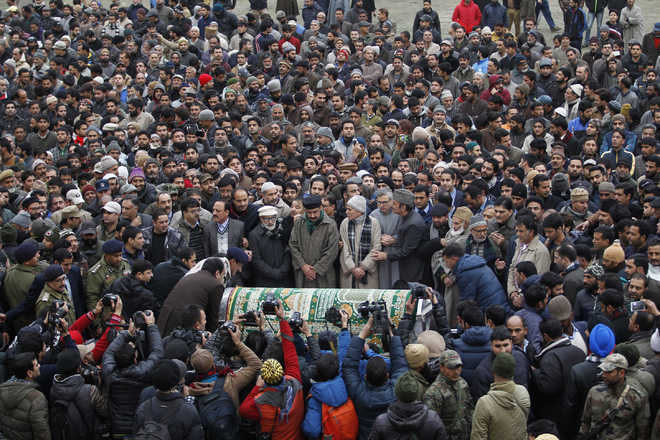 Azhar Qadri &
Amir Karim Tantray
Tribune News Service
Srinagar/Jammu, January 7
Jammu and Kashmir Chief Minister Mufti Mohammad Sayeed, a career politician who formulated the "healing touch" policy to win hearts of the violence-weary people of the state and was an ardent supporter of friendly India-Pakistan ties, died at a hospital in New Delhi this morning. He was 79.
Mufti, as he was known in the political circles, died after prolonged illness and was under treatment at New Delhi's All India Institute of Medical Sciences (AIIMS). He had remained on life-saving treatment but in a critical condition for the past fortnight and breathed his last at 7.55 am. He was laid to rest at his ancestral graveyard in Bijbehara, Anantnag district, with full state honours.
Editorial: Mufti of Kashmir
His family members, including his politician daughter and likely successor Mehbooba Mufti, were by his side when he breathed his last. Mufti is the third Chief Minister of the state to die in office after Ghulam Muhammad Sadiq (1971) and Sheikh Mohammad Abdullah (1982).
Immediately after Mufti's death, the PDP put its weight behind Mehbooba as the next Chief Minister. She is a Member of Parliament from Anantnag. The BJP, which is PDP's alliance partner, has also expressed "no objection" so far to this choice.
Mufti's political career began in the 1950s when he was associated with the National Conference. In his lengthy and unprecedented political journey, Mufti made associations and alliances smartly and swiftly.
From 1962, when Mufti was first elected to the Legislative Assembly, to 1967 when he was re-elected and made the deputy minister, Mufti played his cards well and his political career reached a crescendo by 1989, when he was appointed the Union Home Minister, a rare achievement for a Kashmiri Muslim.
In 1999, Mufti formed the Peoples Democratic Party, or PDP, as an alternative to regional heavyweight National Conference and within three years it became the state's ruling party with only 16 out of 87 seats — a political masterstroke.
During his political career, Mufti became known as a 'Kashmiri who is an Indian by conviction' after his association with pan-India political parties like the Congress between 1960s and 1980s, and BJP, in the recent year. The association with both these parties took place at a time when they were considered political pariahs in Kashmir. However, Mufti made no excuses for these alliances and did them with sheer audacity — a gamble that strengthened his stature in the national politics.
Mufti was born on January 12, 1936, in Bijbehara town of Anantnag district, three years before the NC was formed, the party which he would decimate in two consecutive elections before his death. His early life was "typical of the new bourgeoisie that emerged in Kashmir in the middle of the century", an official obituary released by the information department said. The hallmark of Mufti's politics, that is now a bedrock of his political legacy, is his support for friendly relations between India and Pakistan.
During his first tenure as the CM, that lasted three years between 2002 and 2005, he came up with the slogan of "healing touch" for a population battered by years of insurgency and counter-insurgency. As part of it, he disbanded a notorious counter-insurgency unit, the State Task Force, against which there were allegations of widespread human rights violations, and revoked a controversial law, POTA, that had given sweeping powers to security forces.
For Mufti's detractors in Kashmir, including the NC and separatist groups, he remains a figure linked with several massacres that had taken place in early 1990 when security forces opened
fire on protesters in several areas of the region. He was then the Union Home Minister. The legacy of Mufti's political career is the PDP, which he founded. In the last two elections in Mufti's life, PDP had swept the polls and pushed the NC to margins.