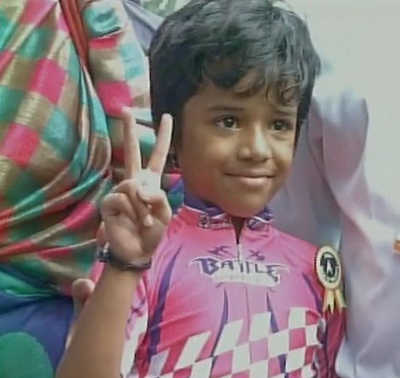 Coimbatore, March 13
A six-year-old girl today entered the Asia book of records for skating a distance of 10.5 km in 41.03 minutes.
K Darshini, a student of Yuvabharathi Public School here today entered the India Book of Records and Asia Book of Records by covering a distance of 10.5 km in 41.03 minutes in the event titled "Quarter Skating Marathon", claimed to be the first of its kind in Asia, a release said.
According to Tamil Nadu Speed Skating Association (TNSSA) General Secretary, Muruganandam, the event was the first-of-its-kind in Asia.
The young skater has bagged gold medals in 150 as well as 500 metre during the Coimbatore District Roller Skating Championship in 2014 besides having taken part at the state level event for Tamil Nadu State Roller Skating championship the same year.
Darshini has won gold and bronze medals at the national level event held last month in Goa organised by TNSSA to be chosen for international level event scheduled in Singapore next month. — PTI
Top News
Opposition Congress demands resignation of CM Naveen Patnaik...
Pace sensation Titas Sadhu, leg-spinner Parshavi Chopra dish...
Congress leader says people of J-K are in pain and his party...
Said there is a push from a growing number of member nations...
'Winning on the field and off it': ICC posts video on social...