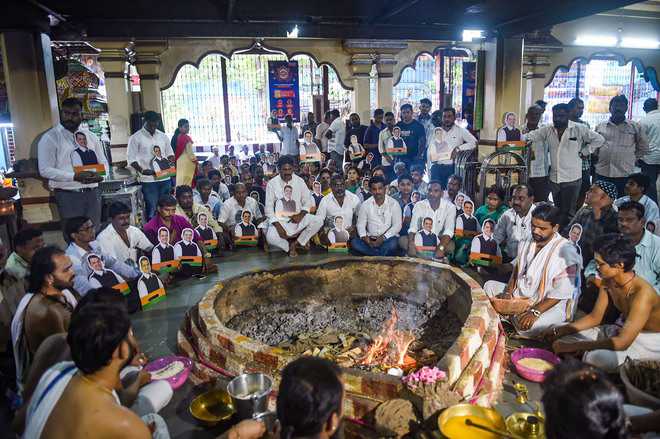 Mumbai, November 8
The Congress on Friday alleged that the BJP was engaging in horse-trading and offering money to MLAs of other parties to switch sides in Maharashtra. The saffron party quickly refuted the charges, with state BJP spokesperson Keshav Upadhye saying such a practice was not part of the party's culture.
His assertion came after Congress leader Vijay Wadettiwar alleged sums of "Rs 25 crore to Rs 50 crore" were being offered to MLAs to switch sides in Maharashtra, where the formation of a new government is in a limbo due to fight between the BJP and the Shiv Sena over sharing of power. Upadhye said, "There is no question of the BJP going for horse-trading as it is not our culture."
There have been allegations of BJP leaders, through intermediaries, making "offers" to newly-elected Congress MLAs to switch sides. Upadhye termed such allegations as baseless. Commenting on Wadettiwar's allegation of party's Igatpuri (Nashik district) legislator being offered a hefty Rs 50 crore, Upadhye said it shows the frustration of the country's oldest party.
"In the last few elections, the party has not been able to perform well... it is their frustration that is pushing them to make baseless allegations," the BJP spokesman said. — PTI
'Guv not acting fast'
I am not aware why Governor BS Koshyari is not inviting the BJP, the single largest party, to stake claim to form govt. —Sharad Pawar, NCP chief
'No deal with sena'
There is no deal between BJP and Sena over equal distribution of portfolios, including sharing the chief minister's post. —Nitin Gadkari, Union Minister
Top Stories