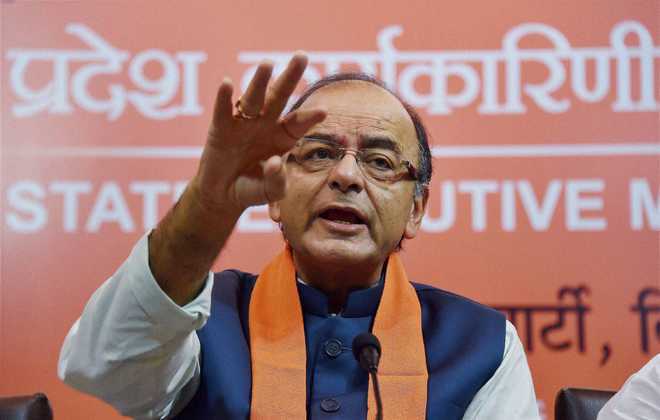 New Delhi, April 17
The Congress on Wednesday hit back at the BJP over its allegation that Rahul Gandhi and Sonia Gandhi had defamed Hindus "globally" as its cited an old Wikileaks expose on its leader Arun Jaitley's reported remark that his party uses 'Hindu nationalism' as a tool to attract votes.
"The BJP before attacking Rahul Gandhi on Wikileaks should explain Arun Jaitley's remark that BJP uses Hindu nationalism as a tool to attract votes," party leader Jaiveer Shergill said.
He cited an American Embassy note of 2005, released by Wikileaks in which Jaitley argued that Hindu nationalism would always be a talking point for the BJP and characterised this as an "opportunistic issue".
Shergill also said the BJP should explain how Jaitley agreed with the American Charge de'affairs' point that Narendra Modi was a "polarising personality".
The Congress accused BJP leaders of being the "protectors" and lawyers of "absconders and fraudsters" and demanded the resignation of union ministers Jaitley and Sushma Swaraj, besides Rajasthan Chief Minister Vasundhara Raje.
Shergill also accused the BJP of "siphoning off" all the cash from banks, claiming that was the reason that ATMs had run dry, and asked Modi to explain where has the country's cash, deposited in the banks after demonetisations, had gone.
Shergill in fact posed five questions to the prime minister on a range issues like the cash crunch in ATMs, recent rapes of minors in Unnao and Kathua, dilution of the SC/ST Act, the CBSE paper leak case and asked him when he will break his silence on the recent bank scams involving Nirvav Modi and Mehul Choksi, besides the rise in turnover in Jay Shah and Piyush Goyal's companies.
He accused the BJP of "stooping" low when it questioned Rahul Gandhi for granting a party ticket to a lawyer who represented absconding diamond trader Mehul Choksi.
"The BJP brigade is the biggest spokesperson, protector and lawyer of all the absconders and fraudsters of this nation who have taken benefit of BJP's 'Udaan Scheme' for scamsters who have taken away the money of this nation," he said.
He said the BJP before questioning allocation of ticket to lawyer of Choksi, should first ask for resignation of Jaitley, Swaraj and Raje because they and their family members were lawyers of absconders and fraudsters and the company which killed Indians in the country in the capacity of lawyers that represented and defended them.
On the infighting within the Congress over allocation of party tickets in Karnataka, Shergill said it is a sure sign of a party coming to power where all workers would like to participate in the process of election.
"It is rather unfortunate that all aspirants cannot be given tickets for the limited number of seats. We respect the feelings of those people who have not got the ticket.
"Rahul Gandhi is the representative and the Congress will engage with those ticket aspirants, pacify them and would make them part of future government in the state of Karnataka and I am sure they will have a smiling face once again," he said. PTI