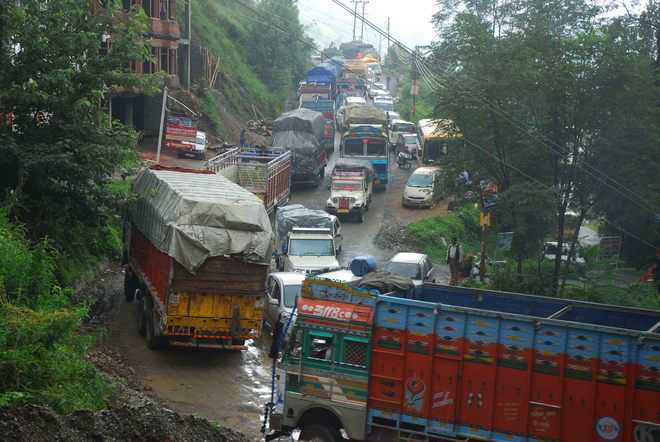 Vibha Sharma
Tribune News Service
New Delhi, September 24
In a reminder of 2013 when a cloudburst in Uttarakhand due to more than one weather systems caused devastating floods and landslides in the state, meteorologists see similar features in the "unusual" weather events unfolding over Himachal Pradesh and adjoining plains in Punjab and Haryana over the past two days.
A "rare" combination of three weather systems led to havoc in the hill state and adjoining regions over the weekend, causing widespread damage to property and crops, says weather expert Mahesh Palawat.
One, the presence of a strong western disturbance (WD), which itself is "unusual" given that they usually descend to lower latitudes around October. Two, the presence of a well-marked low pressure area, a remnant of cyclone days; and three, a trough extending between the two.
Palawat says the combination of the three systems (low pressure area in the Bay of Bengal and Arabian Sea and a strong WD) that led to the 2013 Kedarnath episode.
What is worrying is the increasing frequency of WDs over north India over the years, especially during the period they are confined to upper latitudes, due to climate change. As many as 40 WDs coincided with the June-September monsoon.
Normally, WDs affect the Indian subcontinent from October to March. Between April and September, they usually travel in upper latitudes, affecting countries like China and Russia, says Palawat.
This year, however, the WDs have been a regular feature throughout the year, resulting in widespread rain and violent weather events.
The pre-monsoon season saw heavy duststorms and squalls across several parts of the West and North, killing and injuring hundreds in Uttar Pradesh, Rajasthan and Uttarakhand.
The weather activity also left behind a trail of destruction, uprooting trees and disrupting power supply in several places, including in Punjab, Haryana and Madhya Pradesh. At that time also, it was due to this "rare combination of at least three systems".
A WD had led to the creation of cyclonic circulation over the northwest--Rajasthan and adjoining Punjab and Haryana.
Resultantly, thunder clouds had developed over Rajasthan and parts of Haryana.
The cyclonic circulation then travelled via an already-existing trough to Bihar via Uttar Pradesh. The trough further received moisture from the Bay of Bengal. Temperatures were high and so was the vertical extent of clouds--combinations that gave rise to violent weather activity in the region.
The monsoon season also saw several WDs, causing landslides and widespread rain over the hill states of the north.
Top News
Several pictures of Amritpal Singh in different attires rele...
Severest of severe action taken: CM | Amritpal's lawyer alle...
The report of the panel was tabled in the Lok Sabha on Tuesd...