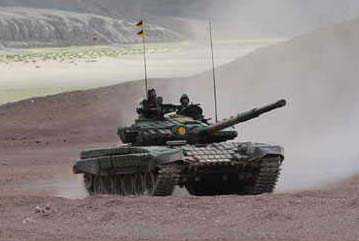 Ajay Banerjee
Tribune News Service
New Delhi, April 4
Almost two years into the Strategic Partnership (SP) model for 'make in India' in defence sector, the Ministry of Defence is considering allowing its owned Public Sector Undertakings to partner foreign companies under this policy.
Producing world-class military equipment hinges on 'SP model'. Production of four crucial military items--fighter jets (both for the Navy and IAF), submarines, helicopters (for all three services) and new-generation tanks are listed under this model.
The 'SP model' allows the Ministry of Defence (MoD) to select an Indian private company to collaborate with a foreign partner and produce military equipment in India. On paper, it looks fine, but technology transfer is tricky.
The MoD will now also consider the Defence PSUs. Additional Secretary Defence Production Subhash Chandra on being asked if the DPSUs would be considered, said on Wednesday: "We remain committed to a level-playing field. We will consider inclusion of the DPSUs if they have the wherewithal to do this."
In May 2017—ending almost two years of discussions with industry and experts—the Modi government cleared the SP model. It was made a part of defence procurement procedure (DPP), the guiding framework of making military equipment in India.
Earlier, Secretary Defence Production Ajay Kumar said the four-day def-expo-2018 would open in Chennai on April 11. The theme this year will be 'India: the Emerging Defence Manufacturing Hub'. For the first time India will be showcasing its own made land, air and naval equipment.
Among the equipment on display will be the advanced towed artillery gun systems (ATAGS) designed by the DRDO and manufactured by L&T and Bharat Forge, Arjun Mark 2, Dhanush artillery guns, Tejas fighter jets, the Advanced Light Helicopter-WSI, Light Combat Helicopter. Also, India-made warships, the INS Shayadari, INS Kamorta an dINS Airvaat will be displayed on the sea front facing the expo.
In the 2016 def-expo over 1,000 companies, both foreign and Indian, took part. This year, 671 exhibitors have confirmed space that includes 517 Indian companies.