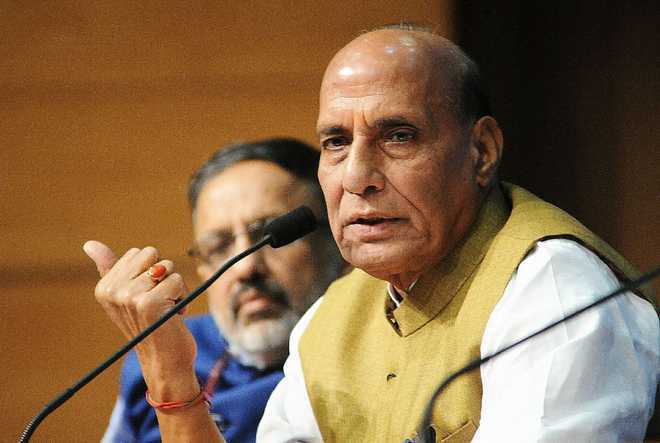 Ajay Banerjee
Tribune News Service
New Delhi, August 28
Aimed at getting Japanese and South Korean companies to invest in military equipment manufacturing sector, Defence Minister Rajnath Singh will be on five-day visit to these two eastern countries. It will be his first visit to these countries as the Defence Minister and both have deep strategic and economic ties with India and are open to investment.
South Korean company Hanwha Techwin has already partnered with L&T in India to produce Vajra K9 self-propelled artillery gun, inducted in the Indian Army. Rajnath will be in Japan for the first leg of his visit starting September 2 and from there he will travel to South Korea.
Within India, the thinking is that since Japan has eased its arms export policy on transfer of defence equipment and technology, investment in the sector is possible. In the past few years, India and Japan have engaged in how Japanese defence technology could come in. Cooperation in defence technology (co-development and co-production) is one of the targets of the 'India-Japan Vision 2025'. A Japanese white paper in 2015 identified cooperation with India as a goal.
An India-Japan Defence Forum was instituted in 2017 and the two sides agreed upon cooperative research in the area of Unmanned Ground Vehicle (UGV), also called Robotics. New Delhi and Tokyo have been involved in long negotiations concerning the utility Seaplane Mark 2 (US-2) amphibian aircraft, manufactured by ShinMaywa Industries.
The two countries have a Joint Working Group on Defence Equipment and Technology Cooperation to identify areas for cooperation in joint development and co-production. Japan is now a partner with the much-hyped naval exercise 'Malabar'—India and the US being the other two. In South Korea, Hyundai and Korea Aerospace Industries, among others, have shown interest in India. The KAI offered the trainee aircraft and utility helicopter to the IAF. The Koreans are also in the race for shipbuilding and port infrastructure in India.
Top News
Describes India and China as 'friendly sovereign global cent...
In April 2016, the then CIC M Sridhar Acharyulu had directed...
He is serving time in a road rage case dating back to 1988
Clashes broke out between two groups in the Kazipara area of...
Sidhu's team in a tweet confirmed his release on April 1