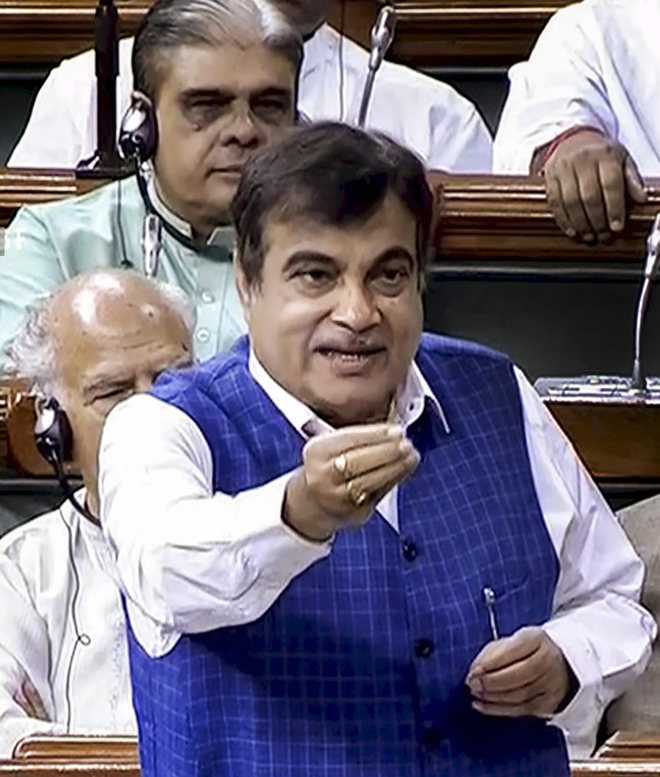 Vibha Sharma
Tribune News Service
New Delhi, February 7
It is not always that political rivals publicly display appreciation of each other and when that happens, it is bound to create ripples. Union Minister Nitin Gadkari today not only drew appreciation from his party members, but also Opposition leaders for the "wonderful" work as the Road Transport Minister.
Senior Congress leader Sonia Gandhi was also seen thumping her desk in appreciation in the Lok Sabha today after Gadkari gave a detailed description of the works being executed and those in the pipeline for expanding the country's network—the Bharatmala project—by his ministry.
"I feel thankful that MPs, whichever party they may belong to, have always said that good work has been done by my ministry in their respective constituencies. These are good compliments. I really thank you. Thank you very much," he said.
After he finished answering questions amidst thumping of desks, BJP MP Ganesh Singh urged Speaker Sumitra Mahajan that the House should appreciate "wonderful" works being done by the minister.
At this, Sonia Gandhi, who had been patiently listening to Gadkari all through and was also seen nodding in response to his replies, smiled and started thumping the desk as a sign of appreciation. Seeing her do so, Congress MPs, including senior leader Mallikarjun Kharge, also responded in a similar manner.
Apna Dal MP Kunwar Harivansh Singh was quoted as saying that Gadkari had done such great work in road laying that he was no longer called Gadkari, but "Roadkari". The open appreciation by Sonia Gandhi follows her reported letter to Gadkari, thanking him for his "positive response" on issues regarding her constituency Raebareli.
Recently, Congress chief Rahul Gandhi had also complimented Gadkari for his remarks that "one who cannot take care of home, cannot manage the country". "Gadkari ji, compliments. You are the only one in the BJP with some guts. Please also comment on: The Rafale scam and Anil Ambani, farmers' distress and destruction of institutions," he wrote on the social media.
Of late, Gadkari has also been in the news thanks to his cryptic comments that have been perceived as a telling observation on the working of PM Narendra Modi and BJP chief Amit Shah.
Some of the recent remarks by him have drawn much attention, perceived as political innuendoes attacking PM Modi and Shah and leading to speculations whether BJP's ideological fountainhead RSS was also working on "Plan B" in case the party failed to get the requisite numbers in the forthcoming Lok Sabha elections.
Observers say Gadkari could not have said what he did without the RSS backing. Gadkari is someone who is known to have friends across the party lines and may find backing more easily than perhaps Prime Minister Modi, they claim.