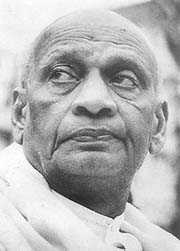 Tribune News Service
New Delhi, October 18
Coinciding with Sardar Vallabhai Patel's 144th birth anniversary celebrations on October 31, the day on which the two newly created UTs out of J&K will also come into existence, the government has asked Central forces and police establishments to display the portrait of the first Home Minister of India in their offices with "Bharat ki suraksha, ekta aur akhandata ko ham sadaywe akshun rakheingey (No one will be allowed to damage the security, unity and integrity of India) message.
Officials in the MHA said a letter in this regard has been sent to the forces and police establishments with the aim to inspire people with the thoughts of the great leader, credited for unifying India in its present form. In the letter, the MHA has also sought nominations for the prestigious national Sardar Patel National Unity Award, 2019. The award is to be conferred on the leader's birth anniversary.
"On the occasion to recognise the historical contribution of Sardar Patel as the first Union Home Minister in laying firm foundations of the Indian police, giving it identity character and direction, it would be an apt gesture to display the portrait of Sardar Patel along with his message in all offices of CAPFs/CPOs," a senior official explained.
---
The significance
National Unity Day on Oct 31, which is Sardar Patel's birth anniversary, has a special significance since it marks the completion of the task of making J&K and Ladakh an integral part of India by abrogating Art 370, say officials.