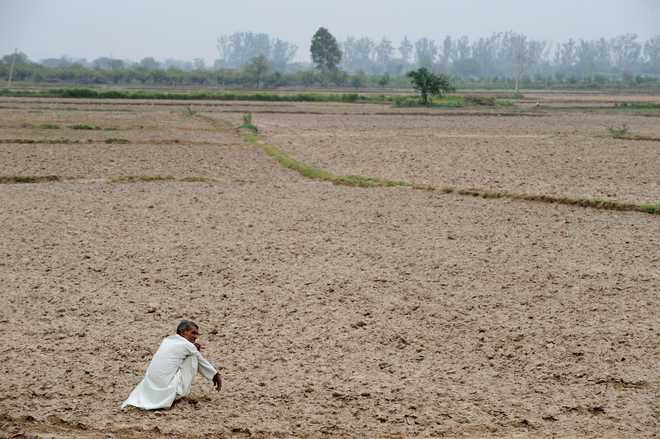 Vibha Sharma
Tribune News Service
New Delhi, September 11
Drought was the most expensive natural disaster for developing countries between 2005 and 2015, a report by the UN Food and Agriculture Organisation said.
According to the report 'Proactive approaches to drought preparedness-Where do we go from here?' presented at the 14th Conference of the Parties (COP 14) of the UN Convention to Combat Desertification Conference (UNCCD), droughts cost developing countries $29 billion.
Other meteorological disasters like extreme temperatures and storms cost the sector $26.5 billion, followed by floods ($19 billion), earthquakes and landslides ($10.5 billion), biological disasters like diseases and infestations ($9.5 billion) and wildfires ($1 billion).
The paper analyses challenges and options for countries to adopt proactive drought preparedness policies and addresses opportunities for enhancing the role of international organisations, the regions and countries most affected by drought and main approaches to management and the process to build a proactive drought policy.
It explores various policy approaches that can be used to support drought-stricken populations and drought-affected activities, reduce vulnerability, and strengthen resilience. "Climate shocks such as floods and drought, combined with poverty and vulnerability, can leave millions trapped in poverty and hunger," said Eduardo Mansur, Director of FAO's Land and Water Division.
According to UNCCD Executive Secretary Ibrahim Thiaw: "Drought is a major obstacle to achieving Sustainable Development Goal-15. We need to move faster in our fight against drought. Let us dust this villain, and mitigate climate change". Sustainable Development Goals (SDGs), also known as the Global Goals, were adopted by all United Nations Member States in 2015 as a universal call to action to end poverty, protect the planet and ensure that all people enjoy peace and prosperity by 2030.
Wednesday's event highlighted the different causes of drought and also saw launch of a toolbox which is a one-stop shop for all actions on drought. The toolbox is a sort of knowledge bank which contains tools that strengthen the ability of countries to anticipate and prepare for drought effectively and mitigate their impacts as well as tools that enable communities to anticipate and find the land management tools that help them to build resilience to drought.
Desertification, land degradation and droughts are damaging food production across the world.
This year's edition of FAO's State of Food Insecurity in the World report indicates that the number of undernourished people in drought-sensitive countries has increased by 45.6 per cent since 2012, and that overall, hunger is on the rise, particularly in drought-prone areas.
Top News
The scheme to cost additional Rs 44,762 crore
There are about 50 lakh Central Government employees and ove...
Decision comes following two consecutive country-wide raids ...
The process of nominations ends on September 30 with only Sh...