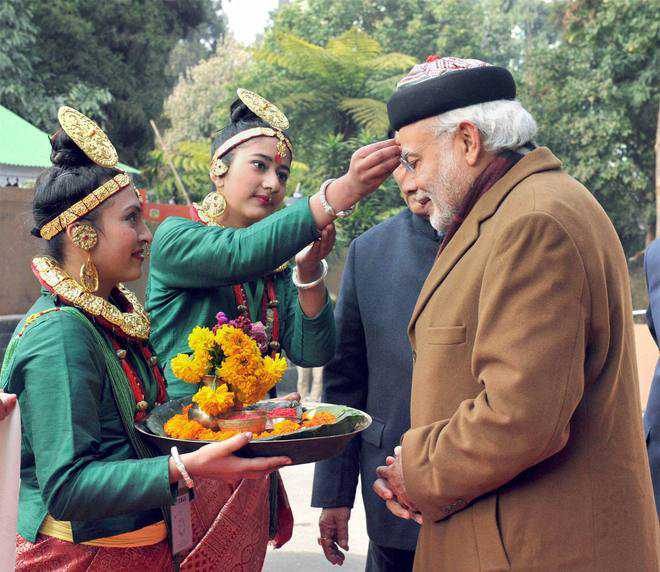 Vibha Sharma
Tribune News Service
Gangtok, January 18
Lauding Sikkim for achieving the status of India's first organic state after a decade-long "tapasya", Prime Minister Narendra Modi today asked all states in the country to earmark a district, or at least a block or a taluka, and implement the Sikkim model there.
The PM officially declared Sikkim as the India's first organic state, presenting it a certificate at the valedictory-cum-plenary session of the two-day National Conference on Sustainable Agriculture and Farmers Welfare.
The world, he said, could learn from Sikkim's "back to basic" model, "the art of living with the nature", which countries across the world talked of at the recent climate change summit in Paris. "Sikkim is a model for the world. It has proved that environment can be protected and new heights in development can also be achieved simultaneously," Modi said.
The PM also promised the tiny Himalayan state its first airport—a much-needed infrastructure that could help it transport organic produce across the world and also aid its growing tourism industry. "Infrastructure should be related to the development of farmers," Modi said, adding that the airport could help Sikkim use its advantageous status to pitch its perishable organic produce worldwide.
He advised farmers across the country to opt for value additions to supplement their incomes. Apart from traditional farming, he asked them to grow tree that could be used to reduce the country's timber imports and also take to animal husbandry. Field boundaries could be used to plant trees and set up solar panels, he said.
Agri conference ends
The two-day Conference on Sustainable Agriculture and Farmers Welfare in Gangtok ended with recommendations on key issues that PM Modi hoped would be reflected in policy decisions both at the state as well as the national level.
"I am sure these views will be reflected in central and state plans and recalled as Sikkim Declaration," the PM said.
The group deliberating the convergence of plan schemes such as the Pradhan Mantri Krishi Sinchayee Yojna and the Mahatma Gandhi National Rural Employment Guarantee Scheme advocated resolving the irrigation and productivity deficiencies.
Key recommendations made during the conference pertained to national agriculture market and APMC reforms, crop insurance, credit flow to agriculture, convergence of plan schemes, sustainability through organic agriculture and soil health and enhancing investment in agriculture and land leasing.
Sikkim CM Pavan Kumar Chamling urged the PM to make India organic and take the lead in spreading the message of a chemical-free, organic world.
Top News
In a shocking display of public apathy, people can be seen p...
B Sai Sudharsan slammed 96 in 47 balls as Gujarat Titans pos...
Ethnic clashes that first broke out in Manipur have claimed ...
Four-hour meeting held at Mallikarjun Kharge's residence
Victim, identified as Deepu, hailed from Udhampur district