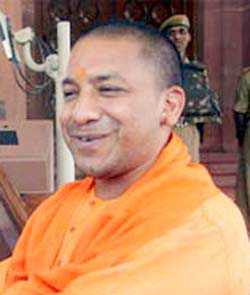 Tribune News Service
Lucknow, November 4
The Allahabad High Court has questioned Yogi Adityanath government's reasoning refusing sanction to take legal action against Yogi Adityanath and others for instigating communal violence in Gorakhpur in 2007.
The Division Bench of Justice Krishna Murari and Justice AC Sharma had yesterday fixed November 7 as the next date when the government would have to explain on what basis Principal Secretary (Home) passed an order on May 3, 2017, refusing sanction to prosecute the Chief Minister in the 2007 riots case.
Under the rules of business of the state government, passing such orders is the sole prerogative of the Governor or the Chief Minister.
The petitioners' counsel, SFA Naqvi, had asked if the Chief Minister was authorised to pass the order in the issue involved in this particular case communicated vide order of May 3, then how has he passed the order in his own favour?
Defending the May 3 order, Additional Advocate General Manish Goel claimed, "Principal Secretary (Home), Government of UP, had come into agreement with the legal opinion drawn by the law department, which consists of judicial officers, and had passed order accordingly exercising his power independently vested in him under Uttar Pradesh Business Rule 1975. Therefore, the question of violation of principles of natural justice is not at all attracted or even flouted."
The AAG maintained that the amended government rules of 2016 were privileges, hence, could not be questioned in a court of law.
Challenging this reasoning, counsel Naqvi said if the court could not interfere and interpret the said privileges, then there was no validity in relying on such a document to further one's argument.
Putting the government counsel on the back foot, Naqvi said in that case it was a futile exercise and a waste of the court's time.
The case relates to 2007 when on January 27, 2007, Raj Kumar Agrahari was injured and later succumbed to his injures when a clash broke out between two groups during a Muharram procession in Gorakhpur.
The FIR had been lodged in connection with the communal riots at the Gorakhpur Cantonment police station on January 27, 2007, registering loss of a life and properties. The riots were reportedly triggered after then Gorakhpur MP Yogi Adityanath's "hate speeches".
Union Minister Shiv Pratap Shukla, then BJP Gorakhpur Mayor Anju Chaudhary and BJP MLA Radha Mohan Das Agrawal are co-accused in the case.
Top News
Had complained to PM Modi about the activities of Brij Bhush...
Section 124A of the Indian Penal Code dealing with sedition ...
The postings and transfers of the officers have been made on...
Singh, in a Facebook post, said he has postponed the 'Jan Ch...
The representatives of various khaps and farmers' outfits re...