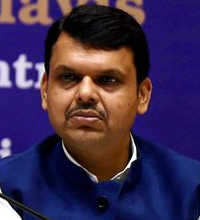 Shiv Kumar
Tribune News Service
Mumbai, June 6
Maharashtra Chief Minister Devendra Fadnavis is facing fire from farmers' organisations and the Shiv Sena over the arrest of protesting farmers in different parts of the state.
While farmers have accused the CM of trying to obstruct the strike, the Shiv Sena warned Fadnavis that farmers' anger would consume the state government if he did not change course. "The government should not tag the farmers as violent criminals for protesting on the streets. It is their prolonged agony which is on display here," an editorial in Shiv Sena's mouthpiece Saamna said.
(Follow The Tribune on Facebook; and Twitter @thetribunechd)
The newspaper hit out at the government for the large-scale arrests of farmers and suspension of mobile Internet in Nashik, where the strike is almost total. "The farmers of Nashik are being treated like the traitors of Kashmir who are hurling stones at Indian soldiers... The whole of Nashik district is being treated as a disturbed area where mobile Internet has been suspended," Saamna added.
The newspaper also hit out at the BJP's trolls who have been making fun of protesting farmers on the social media. Saamna said the protesting farmers who have shaved their heads and demonstrated atop water tanks should not be ridiculed by the BJP or it would pay the price.
Meanwhile, Fadnavis said his government would not negotiate with political leaders who claim to represent the farmers. "The government will hold talks only with genuine farmers," Fadnavis was quoted as saying.
Promises 'biggest ever' farm loan waiver
Maharashtra CM Devendra Fadnavis promised to implement what he termed as 'biggest' farm loan waiver in the state's history by October 31, as the statewide farmers' strike entered its sixth day on Tuesday
"We will be writing off the loans of all deserving and needy farmers. For this, we shall make use of IT-based technology. It will be the biggest farm loan waiver in history," Fadnavis said
Seeking to justify the 'delay' — as alleged by farmers — he said the state government needed four months to identify the needy and deserving beneficiaries. IANS
Top News
The survey said the pace of price increases is not high enou...
81-year-old is currently lodged in a Jodhpur jail, where he ...
Was addressing the joint sitting of both Houses of Parliamen...
Baljinder Singh and Harpreet Deol Both are Pentecostal pasto...
135 people were killed in last year's suspension bridge coll...