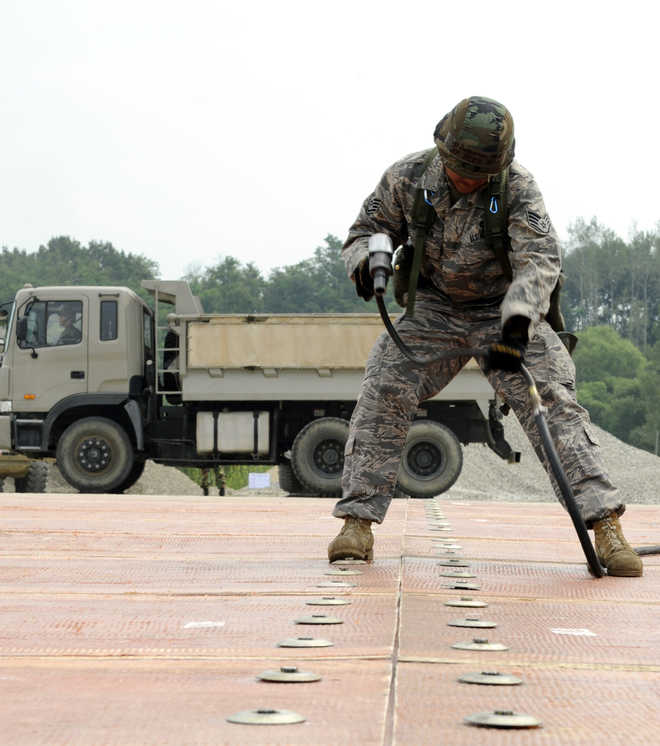 Vijay Mohan
Tribune News Service
Chandigarh, February 2
The Indian Air Force would soon be having indigenously developed fiberglass mats that will enable it to undertake rapid repair of runways that have been damaged by enemy bombs during war.
Referred to as foldable fiberglass mats, these are made up of rigid but lightweight and thin panels weaved from fiberglass, polyester and resin and connected together by hinges.
"The feasibility study for developing and inducting the fiberglass mats has been completed and technical specifications and other qualitative requirements are in the process of being finalised," an IAF officer said.
"This is a new technique that is emerging globally for runway repair and the project figures high in the IAF's priority list," he added. The capability can also be used to repair portions of runways damaged during natural disasters.
According to sources, the IAF has projected a requirement of 120-125 foldable fiberglass mat sets per year and the mats are expected to be manufactured by the private industry once the modalities are worked out.
Given their strategic importance and role in carrying out offensive and defensive air operations as well as moving men and material, airfields and runways are high value targets in war and among the first to be hit during outbreak of hostilities. Destruction of airfields also has huge economic repercussion.
IAF officers said the foldable fiberglass mats would be used to level out the top of the crater formed by a bomb after it has first been filled with stones, debris or soil. One foldable fiberglass mat would be able to cover an area of 18 metres by 16 metres.
Most runways have as asphalt surface, similar to a black-topped road, and laying and setting such surfaces, which are several inches thick and have multiple layers to bear the high impact and weight of aircraft, takes several days.
The foldable fiberglass mats overcome this delimiting factor and enable recommencement of air operations within a short span.
To be built indigenously by private companies
The IAF has reportedly projected a requirement of 120-125 foldable fiberglass mats sets per year and the mats are expected to be manufactured by the private industry once the modalities are worked out
The FFMs will be used to level out the top of the crater formed by a bomb after it has first been filled with stones, debris or soil
One FFM will cover an area of 18 metres by 16 metres