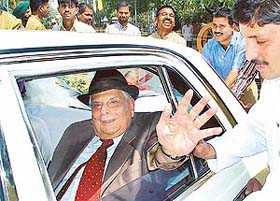 Ajay Banerjee
Tribune News Service
New Delhi, January 13
Lt Gen JFR Jacob (retd) died in the National Capital on Wednesday. He was 93. Jacob was the Chief of Staff of the Eastern Army Command during the 1971 war with Pakistan.
Lt Gen JS Aurora was heading the command at Kolkata when the Indian Army and Air Force liberated Bangladesh, which was then known as East Pakistan.
Jacob was the Governor of Punjab and administrator of Chandigarh between November 1999 and November 2003. Jacob, a bachelor, was living in Delhi's RK Puram. He died after a brief illness at the Army's Research and Referral Hospital.
Lt Gen JFR Jacob & I interacted often. Had a memorable interaction when he presented his autobiography to me. pic.twitter.com/h32apAvBrm

— Narendra Modi (@narendramodi) January 13, 2016
He authored the book 'Surrender at Dacca' in which he explianed the surrender of 90,000 Pakistani troops.
Jacob as the Administrator of Chandigarh brought in people-oriented changes. He was famous for dropping in unannounced at public offices to check their functioning.
Very sad news: General(Retd)JFRJacob, Indian War Hero,Proud Jew,Friend of Israel,has passed https://t.co/gBZWze6SxS pic.twitter.com/kz994hIFoX

— Daniel Carmon (@danielocarmon) January 13, 2016
Israel Ambassador in India Daniel Carmon also paid homage to General Jacob as a proud "Indian and a proud Jew".
He said he was a living bridge between the people of India and Israel, adding that he was sorry for the loss.