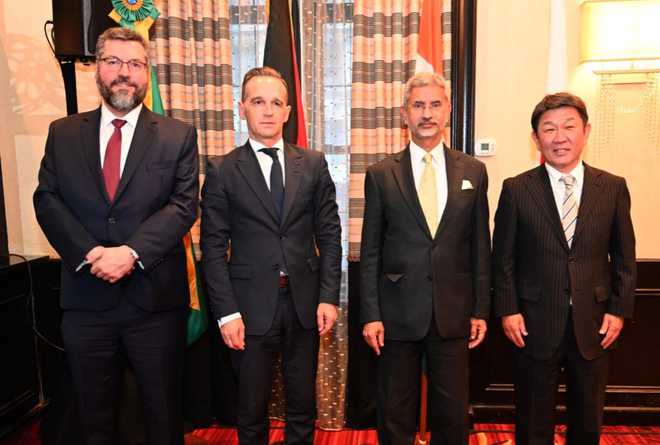 Tribune News Service
New Delhi, September 26
Four countries, including India, that are bidding for their upgrade as Permanent Members of the United Nations Security Council, today asked President of the current session of the UN General Assembly Tijjani Muhammad-Bande to move the reform process forward.
India, Japan, Brazil and Germany issued a statement after a meeting of their Foreign Ministers, pressing for finality on the procedure within this session.The G4 ministers said discussions should follow the UNGA's "standard operating procedures in a democratic and transparent manner'' while making use of the whole calendar of the UNGA, starting as soon as possible and ending in the final stages of the 74th session of the General Assembly (by end of Sept 2020), in time for the UN's 75th anniversary celebrations.
To broad-base their support, the G4 expressed support for a country from Africa to be represented in the permanent part of the UNSC. The joint statement noted that an overwhelming majority of member-states supported comprehensive Security Council reforms. The four Foreign Ministers at the meet were Ernesto Araújo (Brazil), Heiko Maas (Germany), S Jaishankar (India) and Motegi Toshimitsu (Japan).
Kashmir was in a 'mess' before Aug 5: Jaishankar
New York: Kashmir was in a "mess" before August 5, the day when India revoked Jammu and Kashmir's special status, External Affairs Minister S Jaishankar said, asserting that the decision was taken to "try something very different" to change the economic and social landscape in the region. PTI
PM may stop over in Riyadh
Amid reports Aramco is set to announce its IPO next month, India will be looking to expedite the $44 bn West Coast refinery project in Maharashtra in which Saudi Aramco is to hold considerable stake, as well as Reliance Ind $15 bn deal with the Saudi oil giant. PM Modi could make a brief stopover at Riyadh to finalise the deals. IANS
China slams sanctions over Iran
China criticised US decision to sanction six firms and five persons from the Asian country for transporting oil from Iran. "Cooperation with Iran within international framework is legal," it said. ians