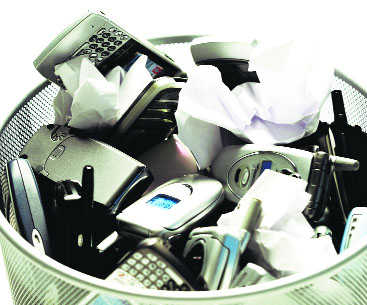 Vibha Sharma
Tribune News Service
New Delhi, June 30
With people tending to change cell phones as frequently as every three to four years, e-waste management has now assumed great importance in the country. Environment Minister Prakash Javadekar said with around 25 crore cell phones dumped every year, the problem of e-waste management has gone beyond electronic items like computers and TV sets.
The Environment Ministry is now planning changes in waste management rules, including those governing the e-waste. So while the 2011 Central Pollution Control Board (CPCB) rules applicability included producer, consumer, collection centre, dismantler and recycler, the E-Waste 2015 draft rules extend it to manufacturer, dealer and also re-furbisher.
The setting up of collection centres will be producers' responsibility. Alongside, the government is also planning changes in rules for disposal of solid, plastic and bio-medical wastes and fly-ash, which, as per Javadekar, will help bring a paradigm shift in the waste management in the country, bringing it closer to Prime Minister Narendra Modi's dream of a Swachh Bharat.
He also announced the successful compliance of new emission and effluent norms by 1,400 out of 2,800 identified polluting industries in 17 critical polluting sectors like distillery, chemicals, fertilisers, pesticides, tanneries and thermal plants.
Top News
With the induction of five more ministers, the strength of B...
Supreme Court judge bats for mandatory regulation of social ...
BJP's next round of growth will come from South India, says ...
Two-day special Maharashtra Assembly session begins
Two AK series rifles, seven grenades and pistol recovered fr...