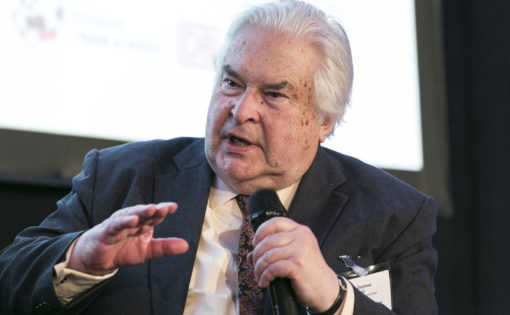 Partha S Ghosh
Geburtstag is birthday in German and the greeting is for Dietmar Rothermund, Professor Emeritus of South Asian History at Heidelberg University. An average Indian would not know him. He is neither a politician, nor an entertainer. He is not a social activist or public intellectual waxing prophetic daily on TV. His is the method of quiet and sustained work, of intellectual rigour and scholarly depth. In a career fast approaching six decades, Rothermund has endeavoured to understand myriad aspects of modern Indian history. In so doing, not only has he helped us, Indians, understand ourselves better, he has also inspired greater understanding about India and South Asia in Germany and Europe.
Born days before Hitler and the Nazi Party's fateful "seizure of power" in January 1933, Rothermund grew up in a Germany ravaged by fascism and war. In the early 1950s, he attended the Universities of Marburg and Munich, where he studied history and philosophy. A Fulbright fellowship took him to the University of Pennsylvania in 1956 and he stayed on to complete a doctorate on colonial Pennsylvania. The shift to studying India was facilitated by a German Research Council Fellowship that brought him to India in 1960. In 1963, Rothermund joined the staff of the then newly established South Asia Institute at Heidelberg University. He would eventually retire from there in 2001.
As a scholar and author, Rothermund's achievements place him among a small, rarefied minority. No less than 40 monographs, more than 30 edited volumes, and nearly 200 scholarly articles have flowed from his pen. These range from scholarly tomes on social and economic history to political biography to coffee table albums on Indian life and culture. Among his most influential works in English are Government, Landlord and Peasant in India (1978), Mahatma Gandhi: An Essay in Political Biography (1991), India in the Great Depression (1992), An Economic History of India (1993), and India: The Rise of an Asian Giant (2008). To students, he is perhaps most widely known for his immensely popular A History of India (originally in German). Co-written with Hermann Kulke, the book has seen multiple expanded editions and been translated into Italian, Turkish, Romanian, and, most recently, Chinese. In 1988, he was elected a Fellow of the Royal Historical Society, London.
Rothermund's scholarly contributions are matched by his work as a teacher and institution builder. From the South Asia Institute, which he directed with distinction on four separate occasions totalling 15 years, he built an unparalleled network for research, collaboration, and international cooperation. In a teaching career spanning 33 years, he advised 44 doctoral students, hosted and collaborated with numerous Indian scholars, and served as Dean of the Faculty of History and Philosophy at Heidelberg. At the European level, he was present at the birth of the European Conference on Modern South Asian Studies in 1968 and served as the inaugural chairman of the European Association for South Asian Studies from 1997 to 2008. For many years, he was also a member of the Indo-German Consultative Group. Upon his retirement, he left the South Asian Institute firmly ensconced as the pre-eminent centre for the study of modern South Asia in Germany.
Rothermund's connections to India also have a personal side. His first wife was from Bombay. His second wife, to whom he has been married for nearly 50 years, is from Pune. Their three children each have Indian names. A regular, for many years annual, visitor to India, Rothermund has enjoyed warm and lasting friendships with a range of eminent Indians. His forthcoming book (My Encounters in India) offers vignettes of 133 of them, including such figures as Jawaharlal Nehru, Indira Gandhi, Morarji Desai, Narasimha Rao, Zakir Husain, Manmohan Singh, Jayaprakash Narayan, EMS Namboodiripad, Jyoti Basu, Khushwant Singh, Nirad Chaudhuri, Mukesh Ambani, Rahul Bajaj, DD Kosambi, RC Majumdar, Rajni Kothari, Romila Thapar, Harish Khare, Sunita Narain, Nandini Azad, Jean Drèze, G Parthasarathi, VV Paranajpe, Girish Karnad, and Nataraja Guru. Rothermund's passion for India was so well-recognised at the South Asia Institute that one of his colleagues once quipped: "He even forgets about his appointments now." This was not true, of course, but what better way to signal 'indianisation' than to invoke "Indian Standard Time"!
Let me conclude on a personal note. Among Rothermund's lesser known qualities is his commitment to encouraging the work of young scholars from South Asia. In 1981, I was an Assistant Director in the Indian Council of Social Science Research. One winter morning that year, I was surprised to see this large German at my office door. I had only met him a few days earlier at a party. We had spoken about my MPhil research on Sino-American relations between the two world wars. Since the subject was related to his own ongoing research on the Great Depression, he asked to read two recent articles I had published. Those were the days of snail mail. I photocopied and posted the articles to his hotel address and forgot about the matter. But the Indian Postal Service was in top form. They delivered my articles the very next day. And on the third morning, there was Rothermund, standing in my office, telling me how much he had enjoyed reading them. For a struggling young academic, the gesture of a personal visit from an eminent German historian to express appreciation and interest was a shot in the arm. In the years to follow, he became the sponsor for my application to the Alexander von Humboldt Foundation for their prestigious Humboldt Fellowship. Starting with my two-year fellowship in 1985-86, I have visited Germany several times, with full or partial support from the foundation, allowing the two of us to maintain an ongoing conversation that has also evolved into friendship.
I hope our readers will join me in wishing this distinguished German friend of India on this, his 85th birthday: Herzliche Glückwünsche zum Geburtstag, Herr Professor Doktor Rothermund!
— The writer is Senior Fellow, Institute of Social Sciences, New Delhi
Top Stories