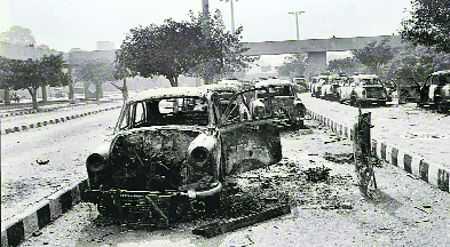 New Delhi, November 28
The Delhi High Court today upheld the conviction of 70 of the 89 persons awarded a five-year jail term by a trial court for rioting, burning houses and violating curfew in East Delhi's Trilokpuri area during the 1984 anti-Sikh riots.
Sixteen of the remaining 19 persons died during pendency of appeals against the trial court's August 27, 1996, verdict. The appeals of the remaining three were dismissed after they absconded. Justice RK Gauba asked the convicts to surrender forthwith to serve their remaining prison terms.
The court noted that the anti-Sikh riots were a "dark chapter" in the history of independent India. "The police force and the civil administration did not take timely or effective action to prevent the riotous conditions from spiralling out of hand. The criminal law process began but hesitatingly and belatedly.
"The fact that these cases have continued to linger on in courts at the stage of trial or appeals is itself an indicator of the reality that the response of the law has been tardy, ineffective and highly unsatisfactory."
In its 79-page verdict, the court said the police did not promptly register the crimes and collect evidence and the other agencies, including the prosecution and the trial court, "failed to rise to the occasion".
Justice Gauba noted that 95 bodies were recovered after the rioting, 22 of which remained unidentified and it was likely that no prosecution was initiated against anyone in respect of these deaths. "This court directs the Commissioner of Police, Delhi, to have the material and evidence re-examined for further action... The large-scale rioting, mob violence, arson, plunder, genocide and looting has been duly proved and established... the judgment of the trial court must be upheld."
Dismissing the appeals of the convicts and cancelling their bail bonds, the court noted that after each communal riot, there were allegations of political influences being the root cause and therefore, there could be a need to "inject" a "sense of neutrality" in the investigative and prosecution process. — TNS/Agencies
Top Stories