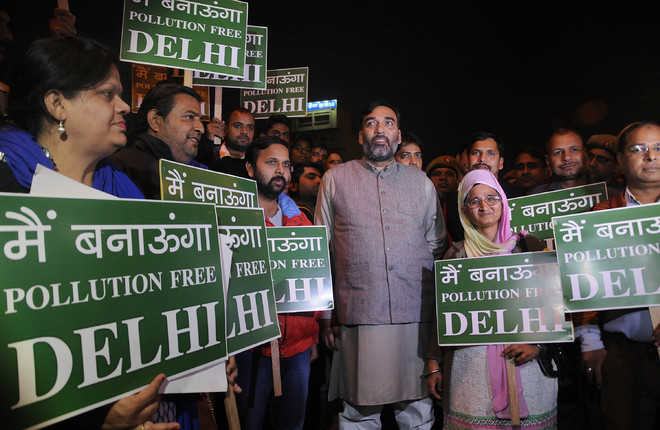 R Sedhuraman
Legal Correspondent
New Delhi, January 11
The Arvind Kejriwal government's odd-even curb on private cars will have its full 15-day trial run till January 15 as part of efforts to reduce air pollution in the city as the High Court today rejected a dozen PILs for lifting the restriction.
"The power of judicial review cannot be extended to determine the correctness of such a policy decision or to find out whether there could be more appropriate or better alternatives for reducing the alarming levels of air pollution in Delhi," a Bench comprising Chief Justice G Rohini and Justice Jayant Nath ruled.
Further, the HC's interference in the scheme "is not warranted" as it was only a 15-day pilot project to assess its impact on air pollution, the Bench said. Acknowledging that the restriction "may have caused hardship to a section of society," the HC said it was bound by a SC ruling in 2002 that government policies were beyond judicial review.
Under the road rationing experiment, private cars are allowed to hit the road only on alternate days — odd-numbered vehicles on odd dates and with similar restrictions on even number plated four-wheelers.
Nevertheless, the HC "directed" the city government to take into consideration the objections of the PIL petitioners while deciding the future course of action based on the results of the pilot project. In the 12-page judgment on the PILs, the Bench merely recorded the government's submission that the scheme had a positive impact on air quality and of the petitioners' claim that the curb had only created problems for the commuting public. The HC stayed away from assessing the correctness of the rival claims.
The HC disposed of 11 of the 12 PILs and sought the government's response to one PIL pleading for adding people with disabilities to the exemption list that contained Sundays and cars driven by women. This petition would be taken up for further hearing on February 15.