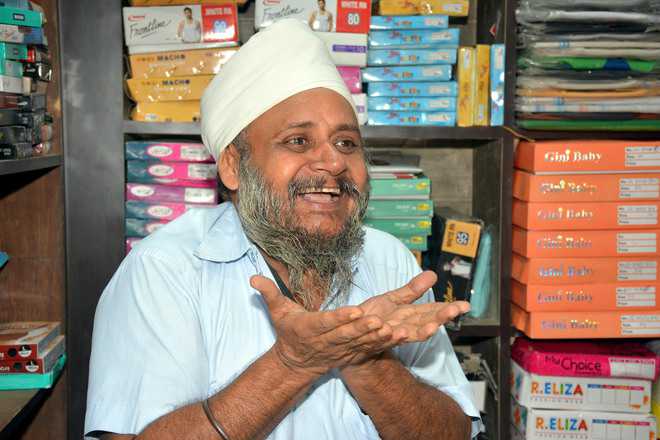 Jitendra K Shrivastava
Patna, Septmber 26
A London-based social organisation, The Sikh Directory, has invited a Sikh devotee from Patna, Gurmeet Singh, for this year's World Sikh Awards under the 'Sikhs in Seva' category while the Bihar Government had failed to invite him to its three-day International Sikh Conclave ahead of the 350th birth anniversary of Guru Gobind Singh.
For the past 25 years, Gurmeet Singh (58) has been daily visiting the abandoned ward of the Patna Medical College and Hospital (PMCH), the state's premier health hub, and serving night meals and medicines to patients even if they require them free of cost. He thinks that feeding the poor and the helpless is to serve the humanity in the true sense.
After getting the invitation for the World Sikh Awards, Gurmeet had initially refused to attend the award ceremony in London, scheduled on November 19, because he thought who would look after the patients in his absence. When his four brothers and a son persuaded him that they would discharge the responsibility, he agreed to attend the award ceremony.
Gurmeet is yet to apply for a passport for his visit to London. Scared of the English world, as he has only passed sixth standard from government school of Patna, he said, "The administrative machinery will take time to issue the passport and I have enquired about it, but not applied for it so far."
"As per Guru Nanak's teachings, the poor's mouth is the daan peti (donation box) and I believe in it. For the past 25 years, I have been taking care of the patients of the abandoned ward of the PMCH and serving night meals and medicines if required, saving the money meant exclusively for our children's birthday because we do not celebrate birthdays at our home. I have four brothers and a son. Each of them owns a shop. We keep 10 per cent of our earning in the daan peti that helps me serve the abandoned patients of any hospital of the state capital," Gurmeet told The Tribune.
Gurmeet accuses the Bihar Government of being extravagant on the global conclave or Parkash Purb, saying the huge expenses should have been spared to distribute free medicines and meals to the poor. The Sikh community, gathered at the conclave, should have advised the state government because serving the hungry, the poor and needy would have been a great tribute to the Guru.
Top News
Lived in self-imposed exile in the UAE to avoid criminal cha...
After his failed misadventure in Kargil, Musharraf deposed t...
Military shoots down the surveillance balloon in Atlantic Oc...
The incident took place on Friday when Kambli reached his fl...
CM said only manual excavation of sand will be permitted in ...