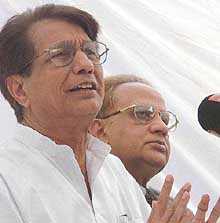 Mukesh Ranjan
Baghpat, January 26
With Ajit Singh's Rashtriya Lok Dal (RLD) getting marginalised in recent times, the caste equations in the Jat belt comprising 23 assembly segments falling under four districts of Muzaffarnagar, Baghpat, Shamli and Aligarh have seen metamorphic changes.
This has led the two established regional parties (SP and BSP) to re-work its strategy to counter the BJP onslaught.
Of late, particularly after the Muzaffarnagar riots in 2013, the BJP still appears to have sizeable control over Hindu Jats leading to a division in the community, which also has sizeable Muslim members.
(Follow The Tribune on Facebook; and Twitter @thetribunechd)
Explaining the new dynamics, a keen political observer and local senior journalist Jitendra Dikshit said, "For long since the days of Chaudhary Charan Singh both Hindu Jats and Muslim Jats have voted together because of their entrenched caste identity for their being coming from same gotras. For example, if Hindu Jats belonging to particular gotras like Dhaka or Tewatiya or, for that matter, Malik were voting in one way, there were Muslims following their Hindu counterparts."
But now with the fall of Charan Singh's son Ajit Singh for his inconsistency, the crack in the Jat unity has weakened the Muslim Jats in the region, as their Hindu counterparts by combining with other Hindu castes like Brahmin, Thakur, OBCs and non-Jatav dalits have become electorally decisive, Dikshit added.
Several assembly segments in the four districts, including Charthawal, Budhana, Khatrauli and Meerapur, where voting will take place in the first phase on February 11, comprise of maximum Muslim Jat votes with an average of nearly one lakh voters, but most of the Hindu castes have come to rally behind Hindu Jats, who are in the range of 50,000 to 60,000 with a total number of voters in the band of 3.25 lakh to 3.5 lakh.
Across the Jat belt, the BJP appears to be maintaining its edge this time too, as it did in the 2014 Lok Sabha elections.
However, one Jagbeer Dhaka of Baghpat district said, "We would still support a genuine Jat candidate of RLD. But the problem is that Chaudhary saheb (Ajit Singh) is more interested in adjusting the rebel candidates of other parties."
There is a wide perception in the region that those aspirants, who failed to get tickets from their parties, are easily finding the RLD symbol. Such candidates are more from the BJP and SP, as the two parties are facing maximum rebellion for reasons well known.
Incidentally, the contest in Muzaffarnagar city assembly segment is going to be interesting as three parties-SP (Gaurav Swarup), BJP (Kapil Aggarwal) and RLD (Payal Maheswari) have fielded Baniya candidates with only the BSP (Rakesh Sharma) opting for a Brahmin candidate. Now with the line-up in the constituency out in open, the sizeable Hindu Jats, several of them claim, have no option but to align with BJP voters, as Muslim Jats and its other community members will be divided between SP and BSP candidates.
Top News
Officials say two minor girls, daughters of main accused, we...
Jaishankar said that the human bond between the two countrie...
Says the gurdwara is open to people from all communities and...
Following recent killings, Pakistan's ISI relocated several ...
Arrested smugglers identified as Sarabjeet Singh of Jhalandh...