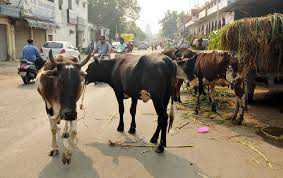 Vishav Bharti
Tribune News Service
Chandigarh, September 14
After the leftists, now even the right wing Hindu organisations of Punjab have started supporting the call for sending exotic cattle breeds to abattoirs to check the rising stray cattle menace, particularly in urban areas, that has created several problems, the main being loss of lives in road accidents.
In a recent statement, Shiv Sena's Mansa president Raj Narain Kuka said that exotic (or foreign-origin) cattle breeds had "nothing to do with any religion" and, therefore, the government "must give permission to send them to slaughterhouses". Kuka had even called for a bandh in Mansa on Friday to protest the government "inability" to counter the problem.
Rough estimates suggest over 300 persons have died due to stray cattle-related accidents in the state over the past three years. In Malwa towns, the menace has forced a number of BJP and RSS-affiliated organisations to change their stance and their leaders, probably under pressure from supporters, are not mincing their words on sending the cattle to meat plants.
Mansa-based Sameer Chhabra, who is RSS-affiliated Gau Raksha Dal's state secretary, said the administration should first segregate the desi and foreign breeds. "Desi cows should be protected and kept in government-run cattle pounds while the foreign breeds can be sent to slaughterhouses," he said.
Similar concerns were earlier raised by BJP leader Lalit Garg, who has served as Barnala district convener of RSS-led Vishav Mangal Gau Gram Yatra. "The way stray cattle are killing people in cities, the government must reconsider its policy of banning slaughter of exotic breeds. Due to space crunch, the government just can't keep all of them in pounds," he said.
Garg said they had assured the district administration that they won't oppose if the foreign breed cattle were sent to slaughterhouses.
In several towns, members of Hindu outfits have been holding protests and observing hunger strike to protest the rising number of stray cattle on roads.