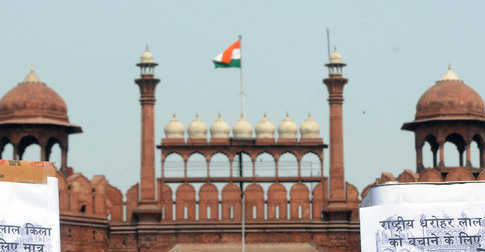 New Delhi, May 2
Historians, conservationists and artists on Wednesday spoke out against the maintenance of the Red Fort being "entrusted" to cement company Dalmia Bharat Group which, they said, had no known credentials in the work of architectural preservation or heritage management.
While the Indian History Congress expressed its concern over the terms of the agreement between the Tourism Ministry and Dalmia Bharat on the 17th century Mughal era monument, built by Shah Jahan and the centrepiece of India's Independence Day celebrations, a host of activists, academics and others banded under the cultural group SAHMAT to voice their worries.
Historian Irfan Habib added that the new scheme was "flawed". "First of all, if you had to implement this scheme to adopt heritage monuments, they should have experimented with a lesser known structure and not the iconic Red Fort. That is the basic flaw of the scheme," Habib said. A statement from SAHMAT, signed by artist Vivan Sundaram, historian Mushirul Hasan and theatre activist MK Raina, among others, brought up the demolition of the Babri Masjid to highlight its concerns and said the agreement must be rescinded.
"The present regime in power has an unsavoury past in regard to our heritage. It felt no compunction when its followers destroyed a 450-year-old monument of architectural importance in 1992 just because it was a mosque.
Heritage conservationist Sohail Hashmi questioned the logic behind the agreement to let the Dalmia Bharat Group commit a sum of Rs 5 crore annually for the upkeep of the Red Fort in return for branding, when the revenue from ticket sales itself could have generated more cash. "The corporate house... will get to put signages on Diwan-i-Aam, Mumtaz Mahal and Rang Mahal inside Red Fort." — PTI
'RSS behind move'
The Rashtriya Swayamsevak Sangh has long been propagating the cause of declaring all major medieval monuments, including the Taj Mahal and Delhi's Red Fort, as Hindu structures — SAHMAT, body of historians
Top Stories