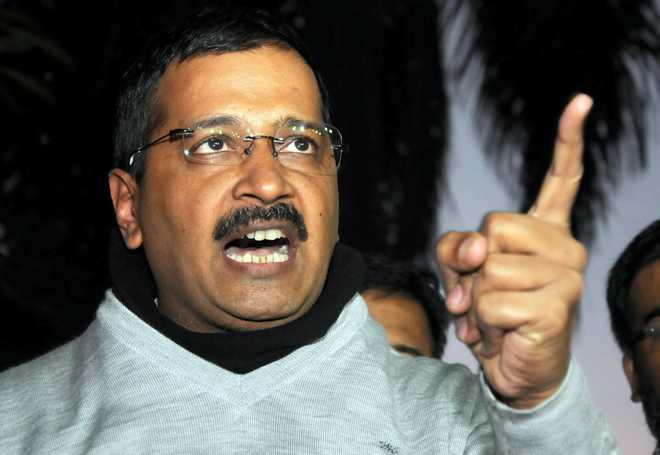 New Delhi, December 31
Almost all senior bureaucrats of the Delhi Government on Thursday went on mass leave protesting suspension of two officials, an action declared "null and void" by the Centre, setting the stage for yet another tussle between the two sides as AAP dispensation called the strike part of a "conspiracy" to "fail" the odd-even scheme.
While around 200 DANICS-cadre officers went on a day-long mass leave, over 70 IAS officials struck work from 9 am to 2 pm, protesting AAP government's action against Yashpal Garg and Subhash Chandra, both Special Secretaries.
The two DANICS (Delhi, Andaman and Nicobar Islands Civil Service) cadre officials, serving at the Home Department, were suspended after they refused to sign a file pertaining to the Cabinet decision to increase salary of public prosecutors.
A defiant Delhi Chief Minister Arvind Kejriwal sent out a stern warning to agitating officers, saying the government was exploring "all options" against those who are on leave today.
He said the government will not tolerate corruption and insubordination.
"DANICS and IAS associations in Delhi have become full fledged B teams of BJP," Kejriwal said, while accusing Prime Minister Narendra Modi of "firing" at the AAP government through the Lt Governor and the officers.
In a series of tweets, he also said time has come to replace bureaucrats with professionals and sector experts to infuse fresh energy and ideas in governance.
"People will be very happy if these officers go on long leave. Govt is ready to give paid leave. Governance will become honest, smooth and efficient," he said.
Hours after the Home Ministry declared the punitive action against the officials as "null and void", Deputy Chief Minister Manish Sisodia also questioned the timing of the protest by the bureaucrats, calling it part of a conspiracy to ensure failure of the odd-even scheme being rolled out tomorrow.
"Why they have decided to go on mass leave just a day before start of the odd-even scheme. It is part of conspiracy so that we fail to implement the scheme ... the PMO and the Lt Governor's office were in direct contact with DANICS officers when they were holding a meeting yesterday," alleged Sisodia.
Delhi, Andaman and Nicobar Islands Civil Service (DANICS) are selected through civil service exams conducted by Union Public Service Commission (UPSC) and the Union Home Ministry is their cadre-controlling authority.
The DANICS Officers' Association comprise around 200 members who hold crucial posts, including that of SDM, Secretary to Minister and Special Secretary.
"The Delhi Government does not have power to suspend any DANICS officer and it can only recommend suspension of DANICS officer and on this, LG can suspend him or her with permission from MHA," a representative of the association said.
Earlier this month, Kejriwal had also suspended two Sub-Divisional Magistrates for failing to provide instant relief to victims whose shanties were demolished by the Railways in West Delhi's Shakur Basti area.
However, these two SDMs are still holding their posts and doing their work. — PTI