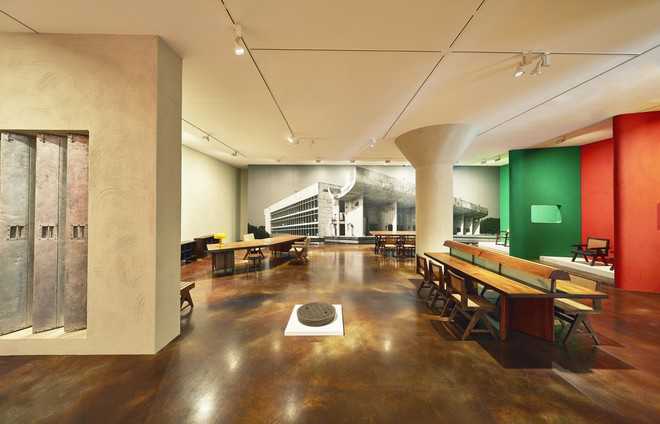 Vishav Bharti
Tribune News Service
Chandigarh, September 19
Chairs of Punjab and Haryana High Court judges and tables from offices of Punjab's ministers and the State Legislative Assembly are among the furniture designed by Le Corbusier and Pierre Jeanerette that has been smuggled out of the state by Vijay Nanda in connivance with government officials.
(PLUNDER OF HERITAGE-I: Antiques smugglers had a free run of Punjab's heritage)
On January 25, 2015, through an email, antiques smuggler Nanda instructed his point person Devesh Goel in Delhi to procure some furniture from Chandigarh and Punjab. The list of 31 items mentions the numbers in which each item was required. He tells him that these "need to be ready for major sales in June". The list comprises a rosewood table and the famous V, X and Z-shaped chairs of Le Corbusier and Pierre Jeanneret.
(Follow The Tribune on Facebook; and Twitter @thetribunechd)

Several furniture items with descriptions identical to this list, such as "tree trunk coffee table" and "kangaroo chairs", are now on display at Kukje Gallery in Seoul. It was Nanda who had sold these items for hefty amounts to the gallery. As per four invoices (dated July 11 and August 22, 2016), his New York-based company Sage Mercantile sold 19 items related to Chandigarh and Punjab's heritage furniture to Kukje Gallery for Rs12.62 crore. These invoices were recovered by the Directorate of Revenue Intelligence (DRI) from Nanda during investigation and are the part of the DRI dossier, a copy of which is with The Tribune.
The maximum amount among these 19 items was fetched by a two-component "minister's table". As per Nanda's invoice, it was made in 1958 for ministers and procured from the Punjab Civil Secretariat in Chandigarh. Nanda sold it off for USD 3.8 lakh (Rs2.43 crore) on August 22, 2016.
Similarly, two other items sold off as scrap by Punjabi University, Patiala, in 2014 and allegedly purchased by Punjab's former Director, Archaeology & Museums, Navjot Pal Singh Randhawa, through Patiala-based scrap dealer Sandeep Singh Anand, fetched Rs2.43 crore. A library table fitted with a light from 1962 and another one with a removable top from 1966, of Punjabi University, Patiala, went for USD 1.71 lakh and USD 1.14 lakh, respectively. A "boomerang table" from the Assembly (1963-64) went for Rs70 lakh.
Going by the dossier, though Nanda was into smuggling artefacts for long, he started showing interest in the heritage furniture designed by architects Le Corbusier and Pierre Jeanneret in 2014. It was the phase when he met Randhawa through Devesh Goel.
In connivance with Randhawa, Nanda managed to get furniture from sensitive places such as the high court, Assembly, Civil Secretariat, MLA Hostel, and Panjab University. An email between Nanda and Goel on October 1, 2015, confirms this in which Nanda asked for four chairs of Corbusier, which "can either be lying at the Secretariat or UT Administration offices". He further said that a library table with light could be at Panjab University or Sports Library, Patiala; kangaroo chairs or hospital chair in the PGI, Chandigarh; eight library chairs in any of the libraries in Punjab, Haryana and Chandigarh; a rosewood table at the canteen in Panjab University; "half day bed" at MLA hostel; double book rack at the PWD Department in Chandigarh and a low table at Himalaya Hostel, Chandigarh. At the end of the email, Nanda told Goel that he had discussed the matter "with Randhawa".
Randhawa has confessed before the DRI that he provided Goel details of the places where particular types of furniture could be found. After facilitating the procurement, Randhawa also helped them build their case of genuine heritage status. Nanda instructed Goel to "talk to Randhawaji about a letter/certificate authenticating the places." He further ordered it "should look like something official".
Randhawa provided them copies of original bills of Standard Furniture House located in Chandigarh's Bajwara village, from where the government purchased the furniture in 1954-55. He also provided them government proceedings related to purchases and receipts of payments. These documents were procured from Punjab Archives, of which Randhawa was in-charge. However, Randhawa claimed that all these files were given to Nanda for research for his book.
Most of these furniture items were later taken away in "four truckloads" and stored at Goel's warehouse in Delhi. From there, the furniture was sold off to various auction houses across the world over the past couple of years. It happened despite the fact that in response to a PIL in 2011 the Chandigarh Administration had submitted to the High Court an inventory of heritage furniture in the city. The administration also gave an undertaking that it "is committed to protect and preserve" Chandigarh's heritage. "It is shocking that despite such undertakings, smugglers took away furniture from judges' chambers in the same court," says Chandigarh-based advocate Ajay Jagga, who had filed the PIL.
---
Eye on Kashmir excavations too
Nanda had his sights set on fresh excavation sites too. One instance, pertaining to Kashmir, came up during Devesh Goel's interrogation. In his statement to the DRI, Goel said, "Somewhere in the last months of... 2015, Vijay Sir... informed me that in Kashmir, a few archaeological sites are being excavated and... antique bronze statues are recovered. He asked me to... somehow acquire the bronze statues. I made efforts to find out about these bronzes, however, I couldn't find any contact in Kashmir."
Within a span of one week in mid-February 2016, Nanda made two trips to Kashmir. Around the same period, Goel said Nanda had also asked him to get "any statues" from Mathura, where excavations were going on. Nanda also had a rare Kashmiri manuscript of "Mallari Mahatmya" from 1772 (originally a Marathi literary work). The manuscript had 84 illustrations and 275 folios. Nanda got it registered with the Archaeological Survey of India in 1994, claiming its source of acquisition to be a "family collection". He gave it on loan to Prince of Wales Museum of Western Mumbai.
Some of the items Nanda sold off to Kukje Gallery of Seoul, South Korea
Punjab and Haryana High Court: A pair of upholstered chairs from judges' chambers (1955) for USD 57,000; rosewood tree trunk coffee table (1954-55) for USD 1.48 lakh; set of eight upholstered committee arm chairs (1953-54) for USD 1.90 lakh; pair of upholstered advocate/press arm chairs, (1954-55) for USD 57,000; a pair of rosewood upholstered arm chairs (1954-55) USD 47,500.
Legislative Assembly: 'Boomerang table' (1963-64) for USD 1.10 lakh
Panjab University: Library table with removable top, mounted on two 'angle type' legs, (1966) for USD 1.14 lakh; a set of four aluminum louvers (1958) USD 76,000;
Punjab Civil Secretariat: Ministers' table 'in two parts forming an open angle' (1958) for USD 3.80 lakh; Portable Book Rack (1958) USD 23,750
MLA Hostel/Flats: A bench (1961), USD 24,700
Punjabi University, Patiala: Library table with light (1962) for USD 1.71 lakh
Tomorrow: NPS Randhawa's stake in antiques
(PLUNDER OF HERITAGE-I: Antiques smugglers had a free run of Punjab's heritage)