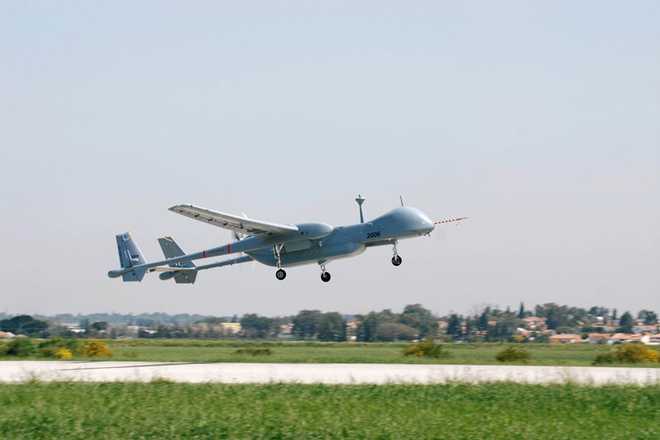 Ajay Banerjee
Tribune News Service
New Delhi, November 16
The Indian Air Force (IAF) is going in for a change in its unmanned arsenal. Two types of armed drones with capability to carry missiles are being finalised. The IAF is looking at the armed version of a drone made by US company General Atomics and the armed version of the Israeli "heron", which the IAF currently uses for surveillance.
Sources confirm that talks are on to acquire 10 "Heron TP" version of the heron family. The Ministry of Defence had okayed the proposal in May last year. "We are working to finalise the deal that is estimated to be $400 million," sources said. This could be the first drone in the Indian arsenal to have a missile-strike ability hence can be used to hit at targets without sending a man on the mission on board a fighter jet. The armed forces had proposed buying armed drones in 2012.
At present, the IAF has a fleet of "Harop" drones from Israel, which are self-destructing "kamikaze" style drones which can crash into high-value enemy military targets. The Air Force already has an inventory of around 110 of these and in February another 54 were okayed.
The difference is that the missile carrying drone like "heron" can return to the base after firing its missiles, while the "harop" self-destructs onto a target after a command from ground.
The IAF is also keen on getting an armed version of the drones the Indian Navy is acquiring for long range reconnaissance.
There is clarity within the IAF that the armed drone will be an important aspect in any future conflict.
The Indian Navy had first announced requirement for 22 Guardian drones in 2016 at an estimated cost of $2 billion. The Guardian is a variant of the Predator family of drones, which is optimised for maritime surveillance.
The IAF will get the "Predator-B" (designated MQ-9 Reaper by the US Air Force). It can carry up to 1.7 tonnes of external stores, including sensors, anti-tank missiles and guided bombs, weighing up to 230 kg each. The heavier payload gives it greater flexibility in striking a diverse number of targets on the ground.
Top News
Jammu and Kashmir Lieutenant Governor Manoj Sinha and politi...
Cops say case cracked within three days with the arrest of a...
Indonesia football association suspends league to investigat...
Samajwadi Party patron is under treatment in Gurugram hospit...
DGP dismisses Mansa CIA Incharge, FIR registered against err...