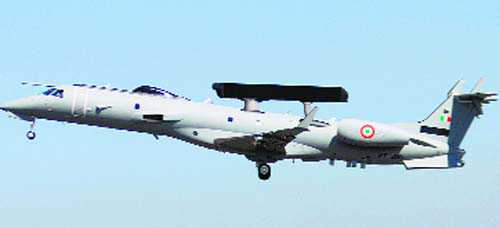 Vijay Mohan
Tribune News Service
Chandigarh, July 3
The Indian Air Force (IAF) is setting up a base for operating airborne early warning and control aircraft at the Bhisiana Air Force Station near Bathinda.
The base will house indigenous Airborne Early Warning and Control Systems (AEW&CS) developed by the Defence Research and Development Organisation (DRDO).
The DRDO's Bengaluru-based Centre for Airborne Systems (CABS) has developed three such systems that are mounted on the Brazilian Embraer ERJ 145 aircraft. Two of the aircraft would be based at Bhisiana while the third will remain positioned at the CABS for research and development, sources said.
Bhiasana will become the second IAF base to operate early warning aircraft after Agra, which is a home to the A-50 AWACS, which are Israeli Phalcon systems integrated with a modified Russian IL-76 heavy-lift aircraft. The IAF operates three A-50s and another two are expected next year.
Technical support and maintenance facilities are being set up at Bhisiana to cater to AEW&CS operations, for which appropriate sites are being identified. The CABS was headed by the recently appointed Director General, DRDO, Dr S Christopher. Air Chief Marshal Arup Raha had commanded the Bhisiana airbase as a Group Captain in the early 2000s.
AWACS are force multipliers and can cover a huge swath of airspace, look deep into the enemy territory, detect enemy aircraft and missiles right from the launch phase and intercept communications. Their flying altitude gives them an advantage over ground-based radar and they can provide a real time battlefield picture to commanders for decision making and counter air operations.
DRDO's Embraer-mounted systems have limited range and capability vis-à-vis the A-50 or similar systems elsewhere. Earlier this year, the Defence Acquisition Council cleared a proposal for the purchase of two French Airbus A-330 aircraft that will be integrated with an advanced early warning and control system to be developed by the DRDO.
Pakistan has four Swedish Saab 2000 Erieye aircraft for early warning, which are similar to DRDO's systems while China is reported to have at least 12 AWACS based upon the IL-76 and indigenous tactical aircraft, with more on order.
Top News
Says the meltdown of Adani Group would not impact country's ...
The regulator says committed to ensuring market integrity; m...
Appointments come amidst strong observations by a Supreme Co...
Firm exported two consignments of 24 batches of the allegedl...
Over 100 members of 19 families were evacuated after their h...