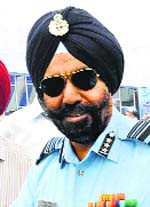 Vijay Mohan
Tribune News Service
Chandigarh, May 19
As the Indian Air Force (IAF) looks at inducting new aerial platforms to boost its depleting squadron strength, it has set in motion the process to upgrade and modernise its existing base repair depots (BRDs) to provide requisite technical and maintenance support to the flying establishments.
"It is a large project involving a budget of about Rs 400 crore," Air Officer Commanding-in-Chief, Maintenance Command, Air Marshal Jagjeet Singh told The Tribune during his visit to No. 3 Base Repair Depot here today. "We issued requests for proposals in February. The received technical bids will be opened next month," he said.
The technical evaluation committee is expected to take about four months thereafter to scrutinise all documents and forward the shortlisted proposals to the government for approval. The project will be executed in collaboration with the industry.
The IAF's Nagpur-based Maintenance Command has 13 BRDs located across the country that provide engineering and maintenance support for its aircraft, weapon systems, radars and other equipment. Besides overhaul and repair, these are also responsible for undertaking suitable modifications and retrofitting aircraft and equipment to meet specific operational requirements. Air Marshal Jagjeet Singh said the IAF was debating whether to set up a new BRD to met future requirements.