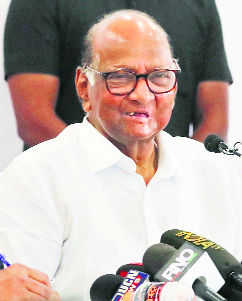 Nagpur/Mumbai, November 15
The first-ever Shiv Sena-NCP-Congress alliance in Maharashtra appears to be taking shape with Sharad Pawar on Friday expressing confidence that the government of the three parties will last a full term.
The NCP also said that the Sena, which fell out with the BJP over Chief Minister's post, will lead the alliance. A delegation of the Congress, NCP and the Shiv Sena is set to meet Governor BS Koshyari on Saturday, but the three parties maintained that it was for seeking immediate aid for rain-affected farmers, and was not about government formation. According to unofficial indications, Sena would get the post of Chief Minister while NCP-Congress would get Deputy CM each, besides portfolios being shared at one per four legislators of each party.
The three-party coalition, a new experiment in Maharashtra involving outfits with diverse ideologies, will be led by the Sena, leaders in the Uddhav Thackeray-led party and the NCP said, marking a progress in power-sharing negotiations. They have already prepared a draft common minimum programme (CMP).
NCP chief Sharad Pawar said a Shiv Sena-NCP-Congress government will be formed, and it will complete five-year term as he ruled out the possibility of mid-term polls in the state which is currently under President's rule.
"There is no possibility of mid-term polls. This government will be formed and it will complete five years. We all will ensure this government runs for five years," Pawar said in Nagpur. — TNS/Agencies