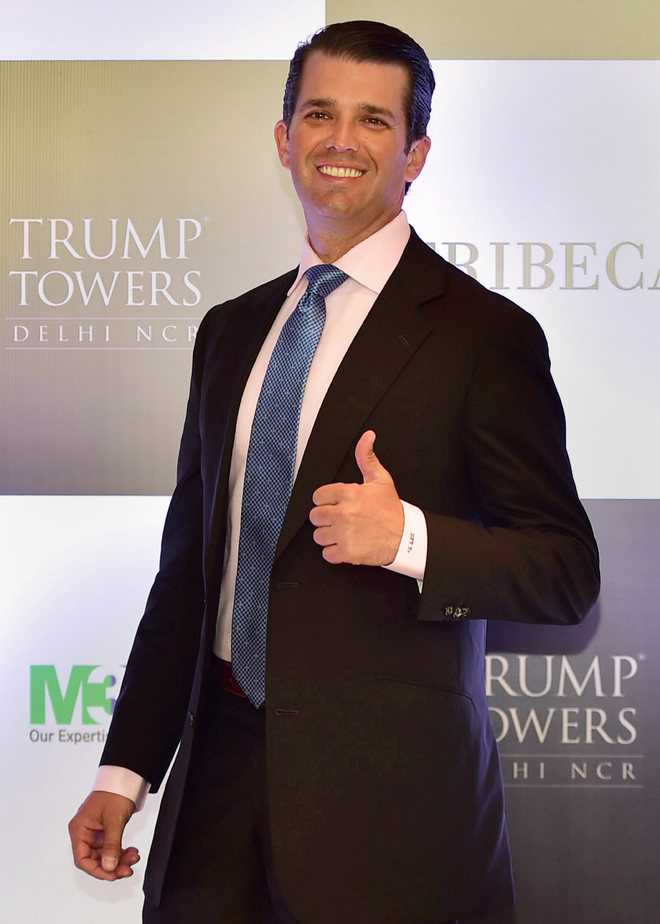 New Delhi, February 20
Donald Trump Junior, the eldest son of US President Donald Trump, today said India is "substantially above board" for business compared to China, and reforms underway will help attract investments to Asia's third largest economy from countries like the US.
On a weeklong visit to push sales of the upcoming Trump Towers in the country, he said the "spirit" of doing business in India is much more aligned with the US way of doing business.
Follow The Tribune on Facebook; and Twitter @thetribunechd)
"As a businessman, I feel things here are substantially more above board," he said. "I think the mentality of the people is the same. I think there is probably little bit more honesty." He was replying to a question during a meeting with senior editors on why Trump Organisation chose to build ultra luxury apartments in India first than in China. Trump Organisation has licensing pacts with local business partners, M3M and Tribeca Developers, for constructing 254 apartments in a price bracket of Rs 5.5 crore to Rs 11 crore with a total area ranging from 3,500-4,500 square feet, at Gurugram. The project is scheduled for completion in March 2023.
"For me, it has been, certainly been, easier to do" business in India, he said.
Trump Jr, who will later this week share stage with PM Narendra Modi at a business summit here, said India represents the biggest market outside the US for the New York-based company. — PTI
Top News
The 58-year-old OBC leader served as minister for higher edu...
Article 370 was a temporary provision, says CJI as Bench pro...
The Supreme Court, in its judgement on Monday, supports the ...
In a series of posts on X, Shah, the architect of the entire...
The Lok Sabha Secretariat last Friday issued a notification ...