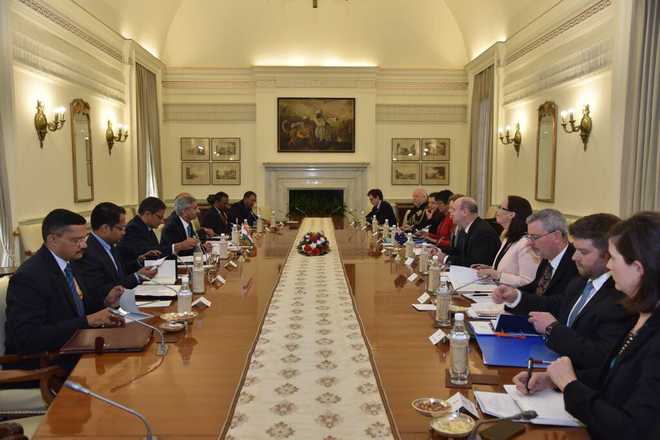 Smita Sharma
Tribune News Service
New Delhi, December 12
India and Australia on Tuesday reviewed all aspects of bilateral ties during the inaugural '2+2 dialogue' and agreed that a free, open and inclusive Indo-Pacific is in the long-term interests of all countries in the region.
Foreign Secretary Dr S Jaishankar and Defence Secretary Sanjay Mitra held the dialogue with their Australian counterparts Frances Adamson and Greg Moriarty.
While India already has a '2+2 dialogue' with Japan, it has also agreed to start a two-by-two ministerial dialogue to enhance "peace and stability across the Indo-Pacific region".
Significantly, the inaugural Indo-Aus dialogue comes barely a month after the two countries along with the US and Japan, discussed cooperation amid evolving security scenario in the Indo-Pacific region where China has been aggressively expanding its military presence.
The focus of the talks remained on bilateral strategic and defence relations. Developments in the Indo-Pacific with China's rise, India's prominent role in Australia's first White Paper on Foreign Policy in 14 years, the road ahead for revived quadrilateral dialogue were part of discussions.
The Ministry of External Affairs in a formal release said, "There is a growing convergence of strategic perspectives between the two countries. Both sides agreed that a free, open, prosperous and inclusive Indo-Pacific region serves the long-term interests of all countries in the region and of the world at large."
The '2+2 dialogue' format was first proposed by then Australian Prime Minister Tony Abbott during his 2014 India visit.
Over the past few months, both countries have seen increased partnership with recent navy to navy talks as well as a maritime bilateral security dialogue.
The two foreign secretaries will be joined by the Japanese foreign secretary for fourth round of trilateral talks on Wednesday.
In a recent interview to The Tribune, Australian High Commissioner to India Harinder Sidhu speaking on the trilateral said, "This is very productive with real meeting of the minds like the quadrilateral. Our three countries work together extremely well. We share our perspectives on current issues so North Korea will definitely be on the agenda."
Joint Secretaries of India, Australia, Japan and the US were part of the revived quadrilateral security dialogue in Manila last month.
Questions remain if Canberra will now get the go ahead to join the Malabar exercise. India holds the annual naval exercise with the US and Japan in the Bay of Bengal.
Australian Defence Secretary Moriarty met Chief of Naval Staff Admiral Sunil Lanba. Moriarty also visited Rajputana Rifles Regimental Centre in New Delhi.